GTarcade App
More benefits, more surprises
Get
Dear Seekers,
In the last NPC art design post, we felt the enthusiasm of your comments and noticed that some of our Seekers would like to see more content related to the art progress.
So, here comes the second issue. Introducing our latest design of the Azure Guard!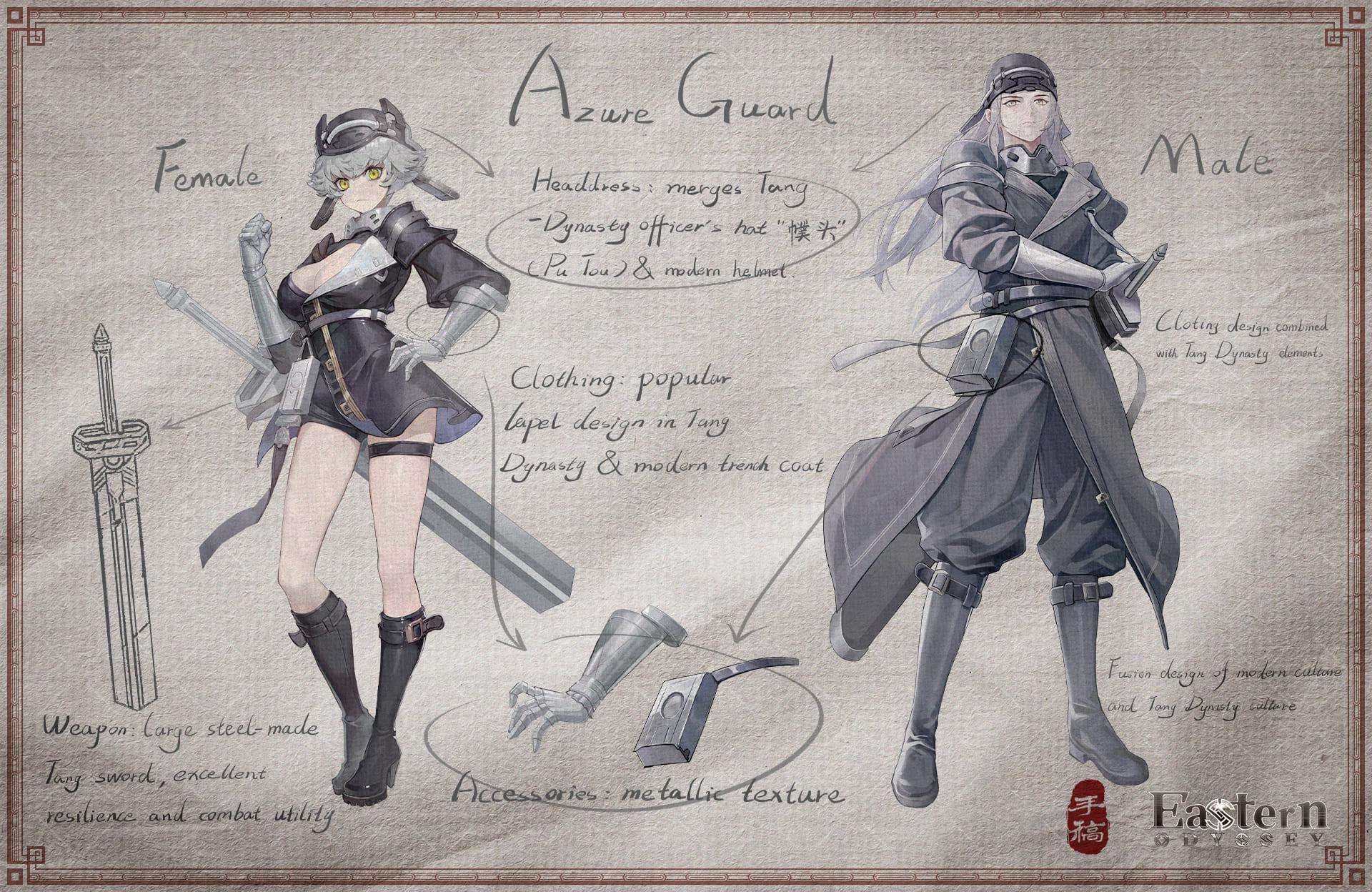 🤔 What is the meaning of their names?
😇 What is interesting about them?
Check out our fresh interview with the designers below! ↓↓↓
Q: Here comes the new edition of the artist team interview! Let's start by talking about their names. Why are they called Azure Guard?
A: Great to share our progress with our friends at Gtarcade once again!
In fact, Azure Guard's identity is reflected in its name in a very straightforward way. It is a title indicating that they serve

the Azure Council

in our world, working faithfully as guards.


Q: What is the Azure Council?
A: As the official institution in charge of Mana tech's development, the Azure Council consists of many subordinate branches. With many excellent guards by its side, the Azure Council showcases its strong oversight function.
It will also appear in the game as an important location, so stay tuned for further introductions!


Q: Good. Back to the character design, what is the ethos of the character that you want to present, or, what is your central idea when creating these guards?
A: First of all, they come from the same organization, and this should be reflected in their uniforms. And as guards, they must look neat and good at fighting, so we chose black as the main color to make them look cool. 😎
As for the specific clothing design, we must also consider that in combat they may need to hide or move quickly.


Q: Azure Guard's headgear looks rather special. Could we start here?
A: Since they worked for an official institution of the Tang Dynasty, we designed them based on the historical official hats of the Tang Dynasty, the "Pu Tou", which are reflected in the shape of the little "tails" on the headdress.
💂‍♂️ At the same time, we also wanted to incorporate modern design elements, so we made the upper part of the headdress look more like a soldier's helmet.


Q: So are their clothes designed with similar considerations in mind?
A: Indeed. The lapel design on them was also very popular during the Tang Dynasty, especially for men. We still see similar lapel collars on many suits or coats to this day, because it works to frame one's shape and draw the attention of a viewer's eye.
Emphasizing their good physiques while ensuring their flexibility in combat, we put these two outfits for female guard and male guard.


Q: Cool, and the female Azure guard is actually the first female NPC we have revealed so far!
A: Yes, we know that many Seekers want to see more cute female characters, and are currently working to draw female characters a little better, so give us a like if you guys are impatient for more girl designs :D


Q: Could you tell us a little bit more about the other accessories they had on?
A: In the accessories, we used silver color to increase the guards' fortitude, and highlight their metallic texture to match the technological setting of our worldview, for instance, the gloves.
Their belt pouches are also made of lightweight metal, which can store some miniature weapons, such as daggers and shurikens.


Q: Last part, what is unique about their weapons?
A: The Tang Dynasty was famous for its sword-making skills. History says that the steel used to make the sword body had to be hammered a hundred times to be hard on the outside and flexible on the inside. Thus, Tang sword can be both resilient and powerful in combat.
For the female Azure guard, we specifically painted the sword much larger than a regular one while making it not that difficult to carry around. This exaggerated design will also meet our science fiction vibe in our story settings.
💭 BONUS QUESTION:
Do you like the design of the Azure Guards?
What kind of character do you want to see next?
🎁 Share your opinion in the comments, and we will select 5 lucky Seekers to gift the authors 200 GT points each!
■ Time: 20:00 AUG 25 - 20:00 SEP 2, 2022 (UTC +8)
■ Results: SEP 9, 2022
(Eastern Odyssey project team reserves the right to final interpretation of this activity.)
👑 Also, here's the winner list from our event for introducing the West Market in Chang'an:
ggJZ2p2
Darioman
adelic
alejandro83
aaa_5178
We've received 10 correct answers by the deadline, and we randomly picked 5 Seekers as the winners.
Thank you all for coming to our community and giving us your support 😊
We hope you can now get to know more about the fantasy world we are creating!
🎮 Follow us on Discord: https://discord.gg/pk77Bm7a7W
🎮 Follow us on Facebook: https://www.facebook.com/Eastern-Odyssey-104151985584498
Best regards,
[Eastern Odyssey] Project Team
Translate