GTarcade App
More benefits, more surprises
Get
The Glorious Battle new season is about to start. Thanks for your feedback!
The event will only last for 14 days and there will be no Peace Period. The resources returned at the end of the Battle Phase are increased from 10% to 20%. Read on to check out the detailed improvements.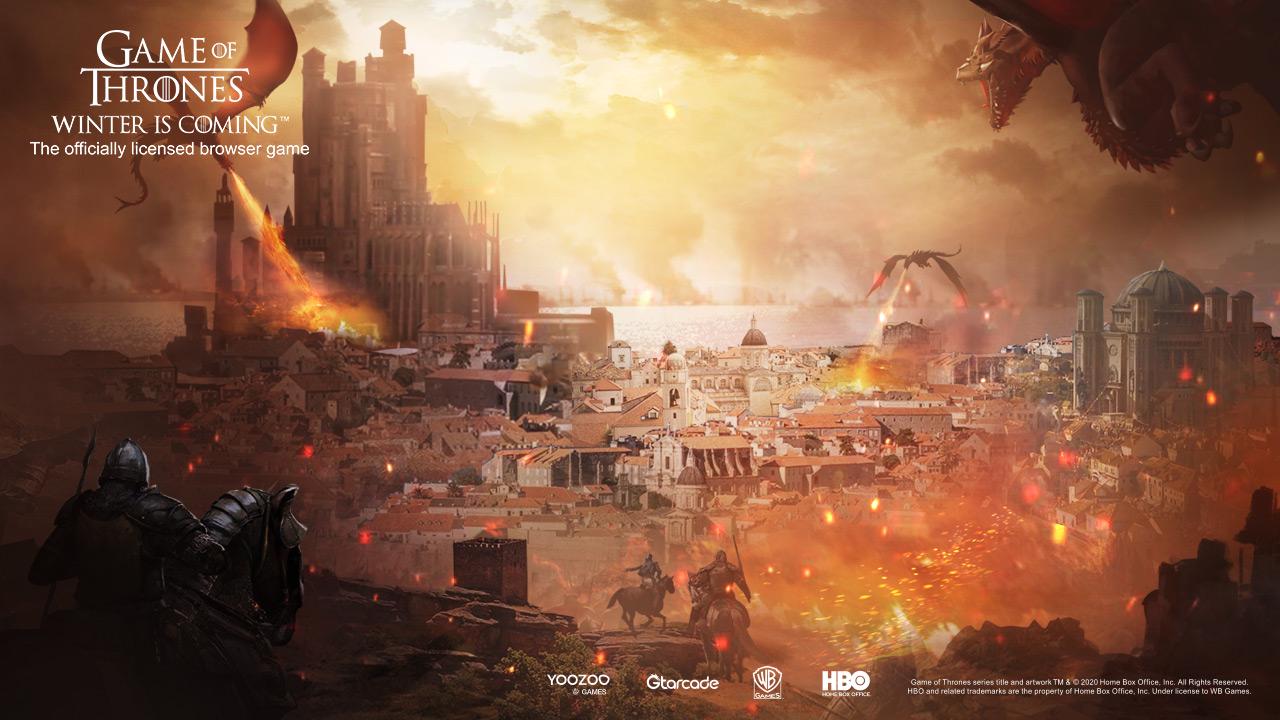 Added:
[Individual Elimination Points Rewards]
The Individual Elimination Point Rewards is newly added, which are only applicable for troops from Royal Lords and Ladies. Rewards include Darius Medals, Marching Bugle, Glory Points, etc.
*The rewards can be seen after the event starts.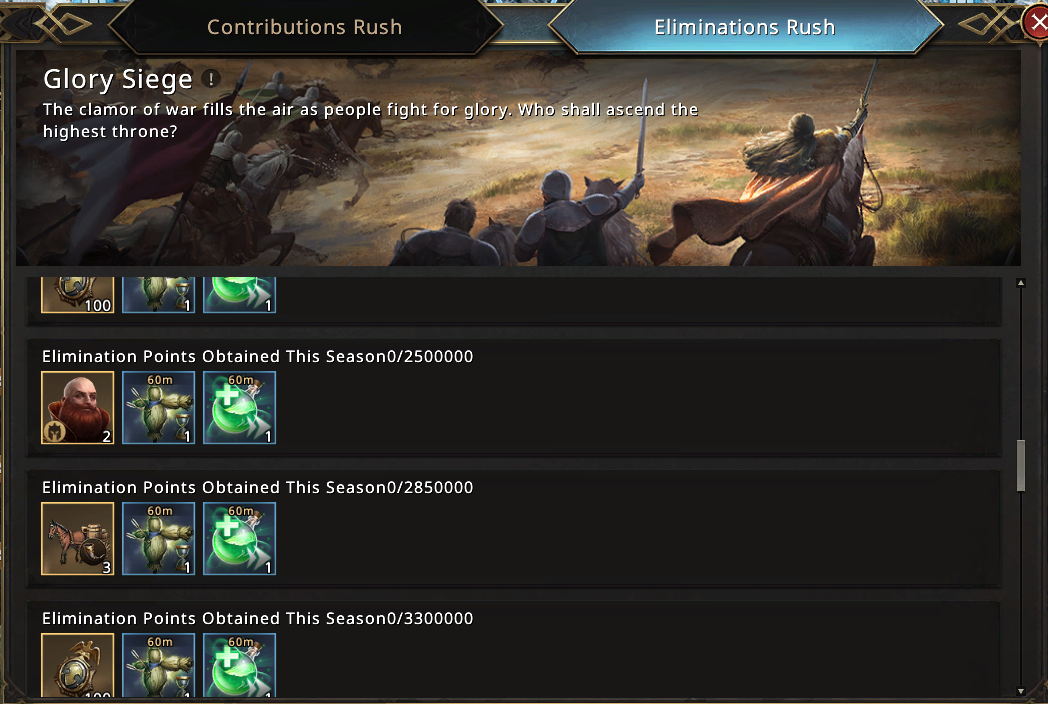 Adjusted:
1. Event Duration
Glorious Battle will only last for 14 days instead of 28 days.
2. Peace Period
There will be no Peace Period.
Tuesday 12:00:00 GMT to Wednesday 14:00:00 GMT, Friday 12:00:00 GMT to Saturday 14:00:00 GMT, and 12:00:00 GMT the day before War of the Kingdoms and Champion City Siege official matches to 14:00:00 GMT on match day are Peace Periods. During a Peace Period, war cannot be declared against cities.
3. Resource returned
In the Results Phase, a certain proportion of war expense will be returned to lords, including 25% of the troops who died and 25% of the resources used for healing.
4. Resilience Formula
Resilience affects the attributes of troops in battle. The higher one's Resilience, the higher the attack, defense, and health of the troops. Conversely, the lower one's Resilience, the lower the attack, defense, and health of the troops.
Resilience will be at the current maximum when troops are deployed. Afterward, Resilience will be gradually used up as the troops perform various actions: every 5 seconds of marching uses up 1 Resilience, and if troops are lost in a battle with an enemy, 15 Resilience will be used when that battle ends. The Resilience Limit and the amount used up by movement can be changed via the Administration in the Administration System.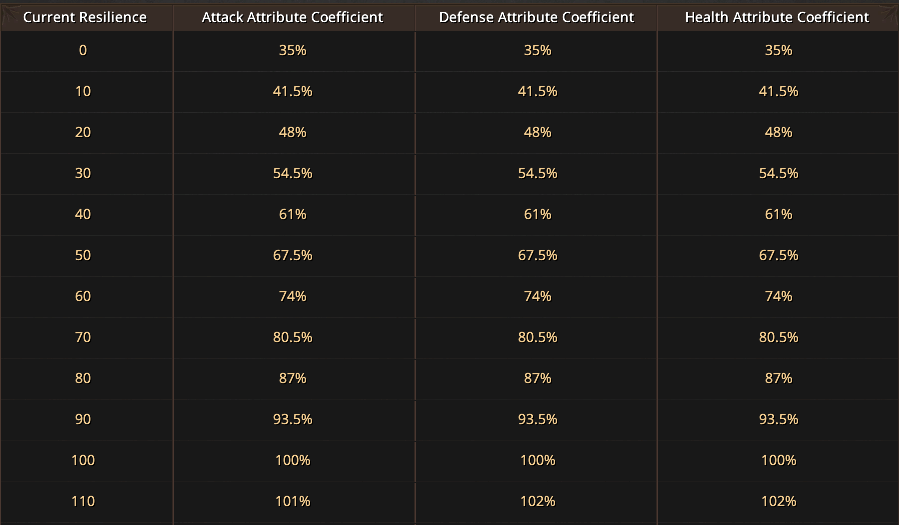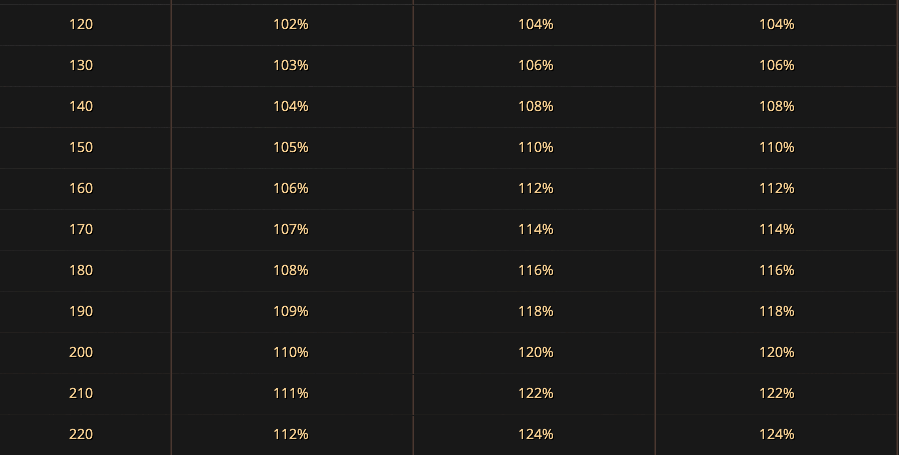 5. Glory Siege Quest
The Glory Siege Quest is lowered, and rewards remain the same.
6. Other
- Details of Armament Supplies consumption will be displayed in Fortress.
- Increased War Horn Generation from Faction City, and Military Cities.
- Lowered consumption of points for Logistic Military Position Mastery.
-Fixed some bugs
Please note that the above content might be adjusted due to the changes of the development plan. Final updates will be determined in-game.
Related:
[News]Get Ready to Fight in the Optimized Glorious Battle! >>https://forum.gtarcade.com/topic/15377
[News]Rules That You Should Know Before Entering the Glorious Battlefield >>https://forum.gtarcade.com/topic/6821
[News]Glorious Battle Rewards: Fight for Glory and Claim Exclusive Rewards! >>https://forum.gtarcade.com/topic/6779
[Player Guide] Glorious Battle (part 1)>>https://forum.gtarcade.com/topic/7476
[Player Guide] Glorious Battle (part 2)>>https://forum.gtarcade.com/topic/7477
Translate