GTarcade App
More benefits, more surprises
Get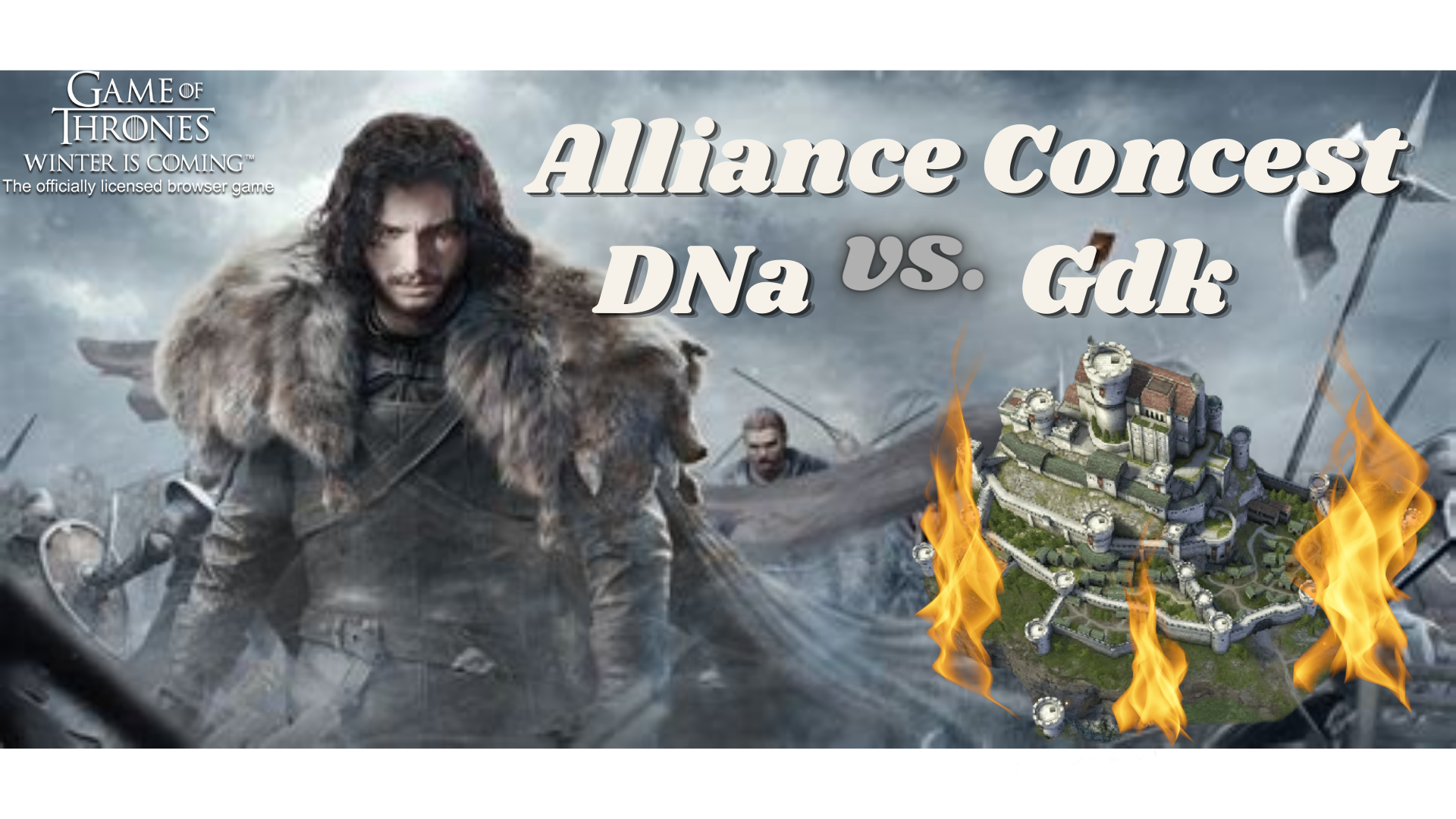 Today I'm sitting here in my room, having a hard time finding the right words. TgL couldn't make it to the final and I had to make a decision now. Over the past few days I have received many ravens from friends asking for support to continue their tournament, but that would also mean leaving my loyal comrades alone in their final battle of the season. I struggled for a long time, but in the end Lord Paykoman convinced me to join [DNa]DieNachtwache. Let me tell you a bit more about the background of my decision and especially about Lord Paykoman.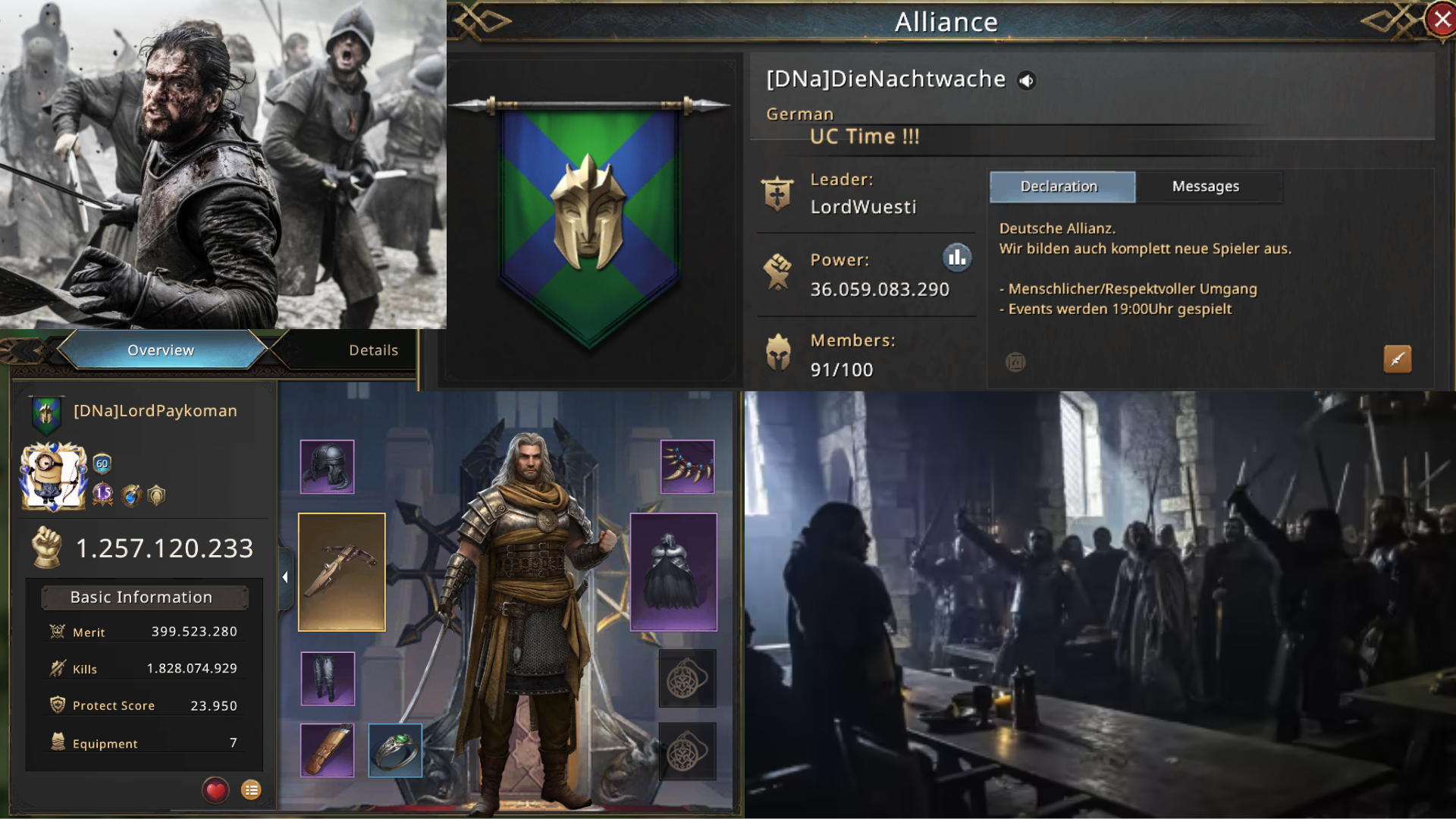 The background
A whole winter and summer have passed since I first met Lord Paykoman. It was at the time when we first marched across all kingdoms to fight for the glorious city. At that time I had the honor of being queen of a very small and peaceful kingdom. Back then, we went into battle together with many well-known warriors and alliances. Nobody knew what to expect or how our goals could be achieved. But we were lucky, the GermanJokers took the lead and with German accuracy and organization we were all able to learn a lot in that first round. But I don't want to go into too much detail, because that was a long time ago. But it was here that I first met Lord Paykoman. Although he was not a member of the Jokers, he was in the leadership of another alliance and was therefore also part of the advisory staff. From day one he got involved, questioned decisions and explored alternatives. Was that tiring? Definitely, but he always did it for the good of all and we probably wouldn't have made one or the other move back then if Lord Paykoman had just kept his feet still. This made an impression on me and from then on our paths would cross again and again. Be it on the battlefield or in the common kingdom, no matter where I came across Lord Paykoman, the impression was always confirmed that he would give his last piece of armor for his comrades and never took the easy way when another promised greater success.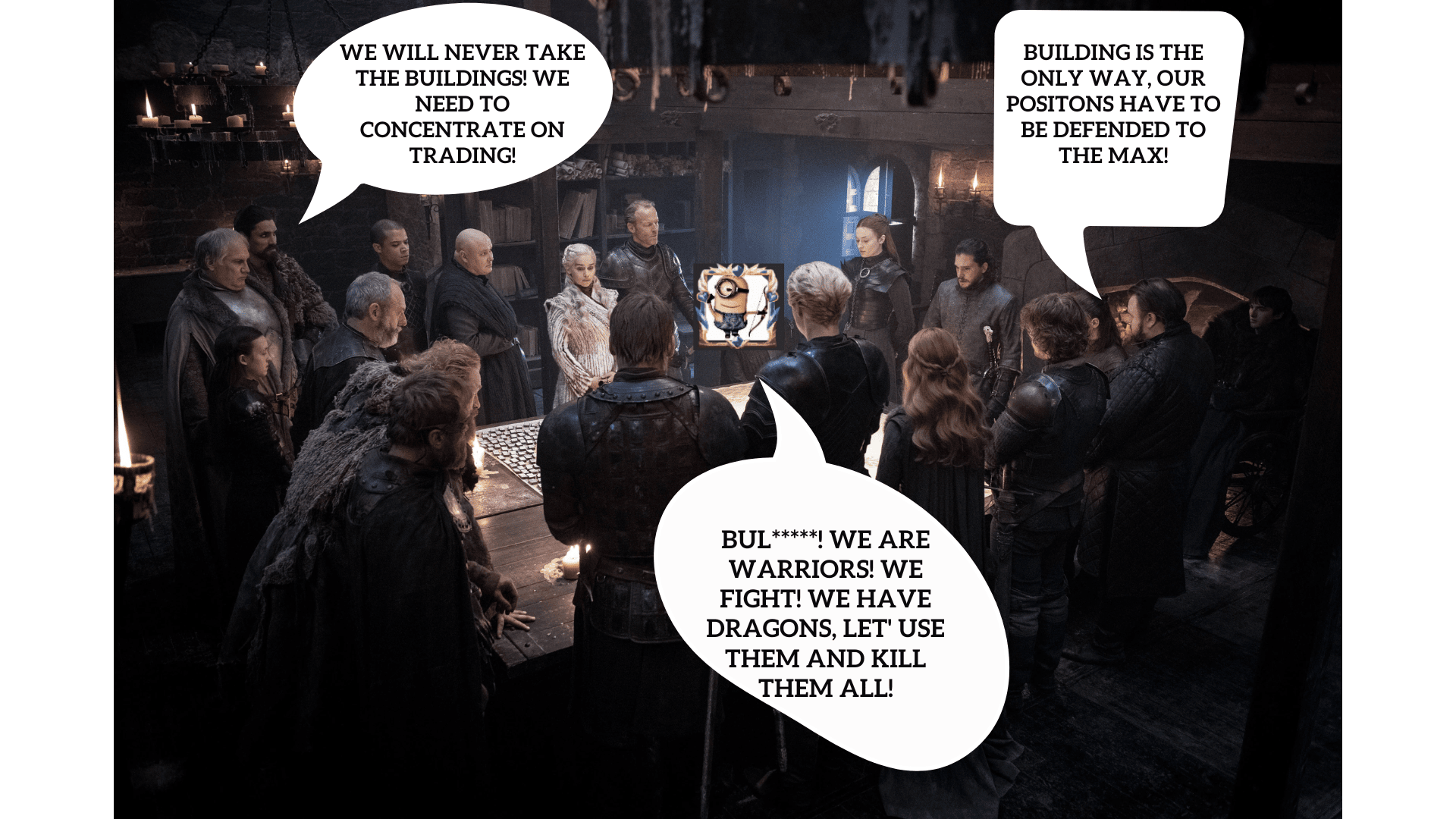 Meeting again
It's only been a few weeks since we met again. After a battle fought in the Alliance Conquest tournament, we met in an inn. He raved about his team's achievements and how well they trained and coached their squires to help them time their attacks perfectly. We sat and shared stories for a long time and when it was time to say goodbye, we were sure to see each other again on the battlefield in the final round. But this should not happen and before the last battle his raven reached me with a request for support. I had sent all the other ravens back with a thanking refusal, but here I hesitated. I consulted with my generals. The reports from our scouts were unequivocal, our last match should be a sure win and thus they encouraged me to start the adventure. So I sent the raven back with a promise and set about choosing my best troops, commissioned the smiths to produce additional armor and weapons, and the maesters were also commissioned to take all necessary precautions to have the troops operational again in the shortest possible time.
It was a chilly evening when preparations were complete. We chose the night to travel, a large army moves faster when there are no traders, farmers and other travelers on the roads and above all we had enough time to rest before the battle but also to get to know our comrades and above all learn everything you need to know about their strategy and fighting techniques. While my soldiers were recovering from the journey, me and Lord Paykoman spent hours poring over old battle plans, reports and chronicles. My head was spinning with all this new knowledge, but Lord Paykoman was a very patient teacher. I eagerly awaited the fight. I was assigned as a racer, not exactly a task that helped decrease my excitement. But let's just take a look at the first hits together.
The first fight
As you can see, the opponent outplayed us with ease and my personal performance was more than poor. Unrest spread, but Lord Paykoman remained calm and commanded our ranks according to plan and with an overview that confirmed what I knew from our previous encounters. In the most precise coordination he selected rally leaders, sent the strongest warriors to solo attacks and spurred each individual lord and lady to send reinforcements again and again, to let the maesters heal troops, to get all available points from the opposing hive and of course keeping an eye on the reinforcements of the individual buildings, both our own and those of the enemy. But none of this could contain or even reduce Gdk's lead. Again and again we held more buildings, but the points continued to run in favor for the opponent.
And even as the hope of victory faded, the warriors of DNa surprised me. I was used to a lot of selflessness from my comrades from TgL, so it became clear to me that loyalty to one another is also very important in DNa. Solo attacks were launched again and again, knowing that the soldiers would never return, but hoping that this would clear the way for another warrior to take the building for good. But my words cannot adequately describe what happened on the battlefield and I'm glad I was able to salvage the following records.
In the end, my first fight with Lord Paykoman wasn't a win, but it was a success nonetheless. We have still managed to reach the finals and also I have found many new acquaintances. And yet we all know how valuable allies are in the numerous wars in Westeros.
Translate