GTarcade App
More benefits, more surprises
Get
Hi dear players,
The problem with Hero Backstory is a recurring bug that they just don't want to fix. This issue is as old as the game itself. But so is the solution, you just need to know how. The problem occurs (sometimes) when a Hero Backstory battle is started and nothing happens at all. This issue is caused when auto-battle is disabled. When you have this issue the only way to continue with the game is to refresh the game, but that will not fix the issue. What you'll have to do is to enable auto-battle, but since you cannot do this inside a Hero Backstory battle you'll have to do this another way. It may seem like an unorthodox solution, but somehow the auto-battle setting is the same for Hero Backstory as it is for a PK battle. Proceed as described below for a 100% success guaranteed solution:
Start a PK battle with another player, but not against a player you will kill in a heartbeat, because you'll need a moment to click a button.
Click the Manual battle button, this will enable Auto battle.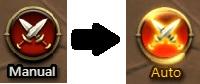 Quit the PK battle. You have now successfully enabled Auto battle, and it will be enabled both in PK battles as in Hero Backstory battles.
Start the Hero Backstory battles.
If all is well you should now be able to complete all Hero Backstory battles. Don't keep this information for yourself but spread the word. And keep repeating it when a new Hero Backstory appears in the game.
Enjoy and have a nice day.
AngelCharmer
Translate