GTarcade App
More benefits, more surprises
Get
🥰The Goddesses Festival will begin on March 21st and last until March 26th (the event will last for the first five days, and the sixth day is the settlement day in which you can continue to claim and exchange rewards). Offerings are the most important part of the Goddesses Festival. Based on this theme, there will be a few different festival events with great rewards for you to participate in. Let's check out the event rules!
〓✅Goddesses Festival Sign-in: obtain rewards by logging into the game each day.
〓🎁Goddesses'Gift: you can obtain Blessing Chests by either collecting a certain amount of resources, collecting resources for a certain amount of time, or defeating a certain amount of Gnome armies or Bosses during the event. Blessing Chests contain Prayer Goblets.
〓🌟Secrets of the Stars: complete Secrets of the Stars missions to obtain Prayer Goblets and points. Once your task completion progress reaches certain points, you can get a progress chest that contains Divine Crystals and more Prayer Goblets. Complete all tasks to get your own Zodiac Chat Msg Box!
〓💛Divine Blessing: make offerings with Prayer Goblets or Gems. In return for an offering, the goddess will grant you Divine Crystals and Star Souvenir Coins as well as Worship Points. After your Worship Point bar is full, you can also open the Goddess Axioms and receive extra gifts from the goddess!
〓💗In the Name of the Goddesses: exchange Divine Crystals and Star Souvenir Coins for your favorite gifts. These can be exchanged for the Goddesses Festival Territory Decoration "Land of Goddesses", Goddesses Festival Avatar Frame "Goddess Greeting", and more.
The Goddesses Festival will begin on March 21st UTC, don't miss out!🥰
#goddessesfestival #infinitykingdom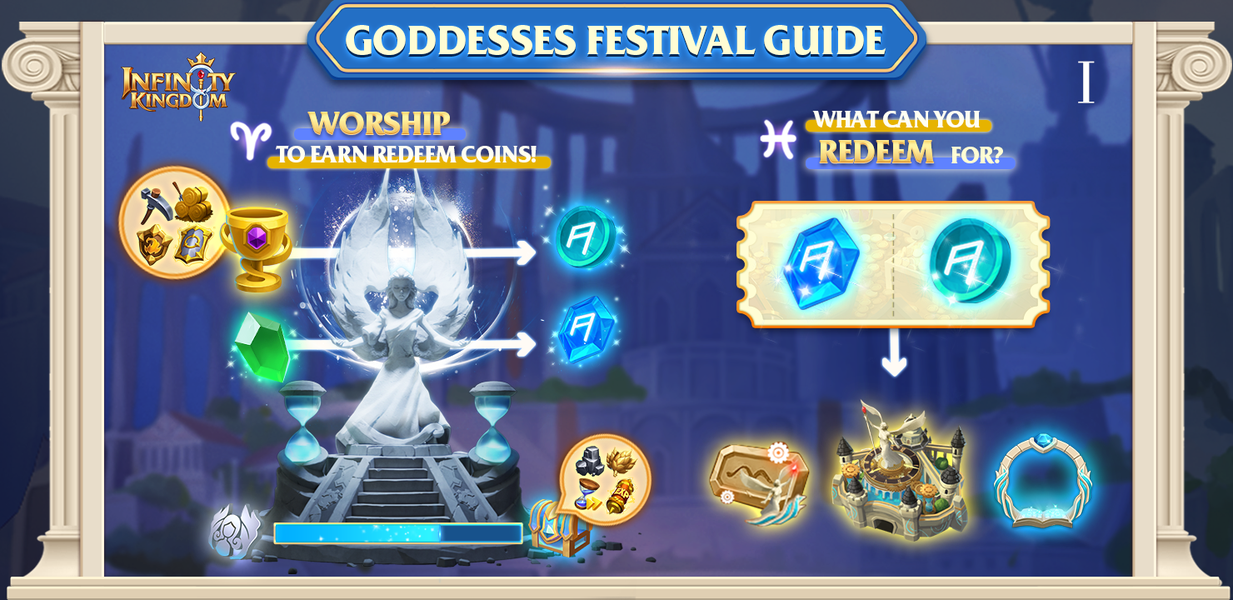 Translate