GTarcade App
More benefits, more surprises
Get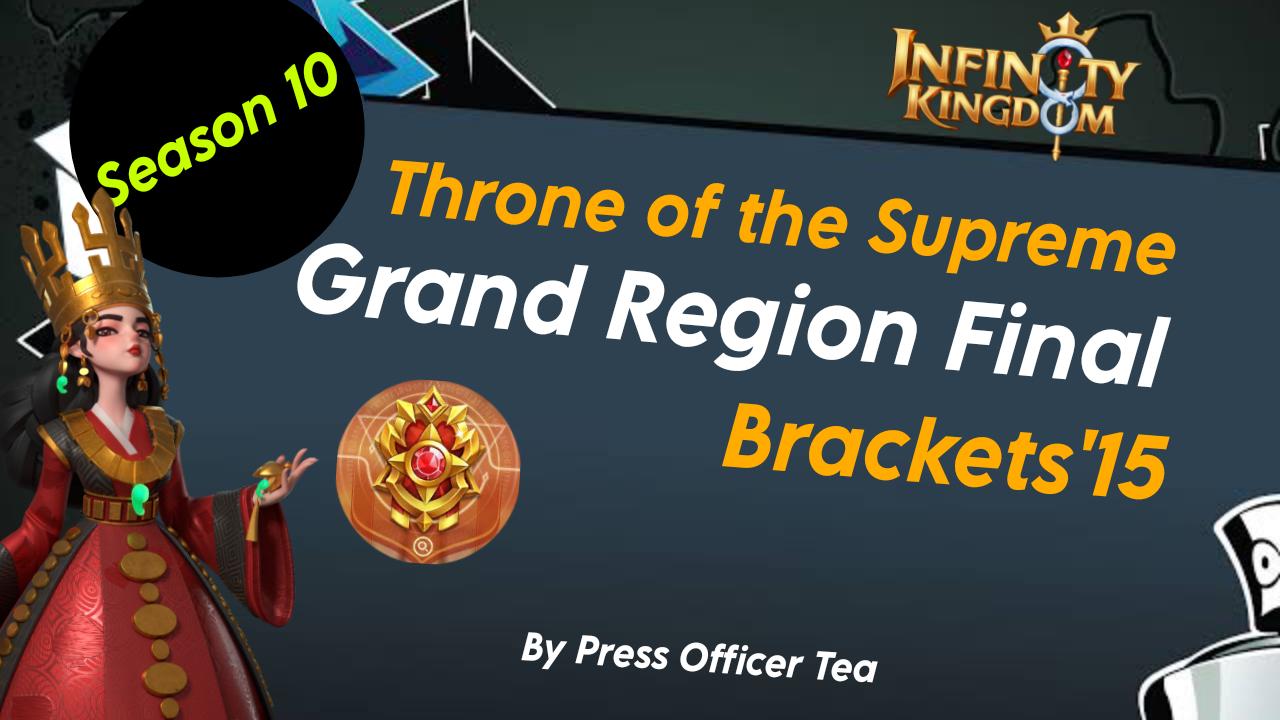 Welcome to the Infinity Kingdom's Forum!
A.) Introduction
Hey Yo!
What's up dude and dudettes?
I hope you are having great weekend!
I'm so glad to have you back in my article, Press Officer Tea, this time we will talk about the Latest and Hottest topic currently in the Infinity Kingdom namely Throne of Supreme. What can be expected from this article? then What are the contents of this spotlight? and How does this event works?. This article is expected to provide an overview and getting closer with Throne of Supreme for Analysis Brackets' 15 on Grand Region Final in the Infinity Kingdom to let you know how this event works, especially for the beginners. 
Let's see together in more detail regarding how this ranking event works!
🏆 B.) Throne of Supreme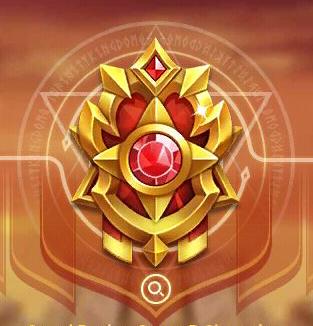 Do you know what Throne of supreme is? How far do you know about Grand Region Final Bracket 15? After the first day of the Throne of the Supreme tournament, the event will typically take place once every 50 days. For this competition, lords from different servers will gather to compete for supremacy.
In theory, the Grand Region Final competition will only allow Lords that successfully compete in the previous match namely Inter-Regional Elimination. Which is only Top 4 each group that means only 4 individuals from each group are in the A–D group, and after that, they are eliminated one at a time until the top 16 are determined, with the requirement that they win at least 2 matches in order to remain in the top 4 positions in each group.
In the Bracket 15 Grand Region Final should be consist of following servers:
1.) Norheim#0113 ;
2.) Norheim#0115 ;
3.) Norheim#0118 ;
4.) Norheim#0119 ;
5.) Norheim#0121 ;
6.) Norheim#0122 ;
7.) Norheim#0126 ;
8.) Norheim#0128
But unfortunately, not all of them eligible to reach this stage of Throne of the Supreme.
It is the analysis for the Grand Region Final match on Brackets'15 in Season 10, which means the analysis for top 4 Group A-D have been fixed from previous matched, and now in Grand Region Final there will be only 2 Group which is A and B that has been won several match on the previous stage in the Throne of Supreme will get more opponent from other server, and the final results will be posted in this article next week!
In order to understand the current situations in the Grand Region Final Season 10, let's take a closer look at the Throne of Supreme.
✨ 1.) Group A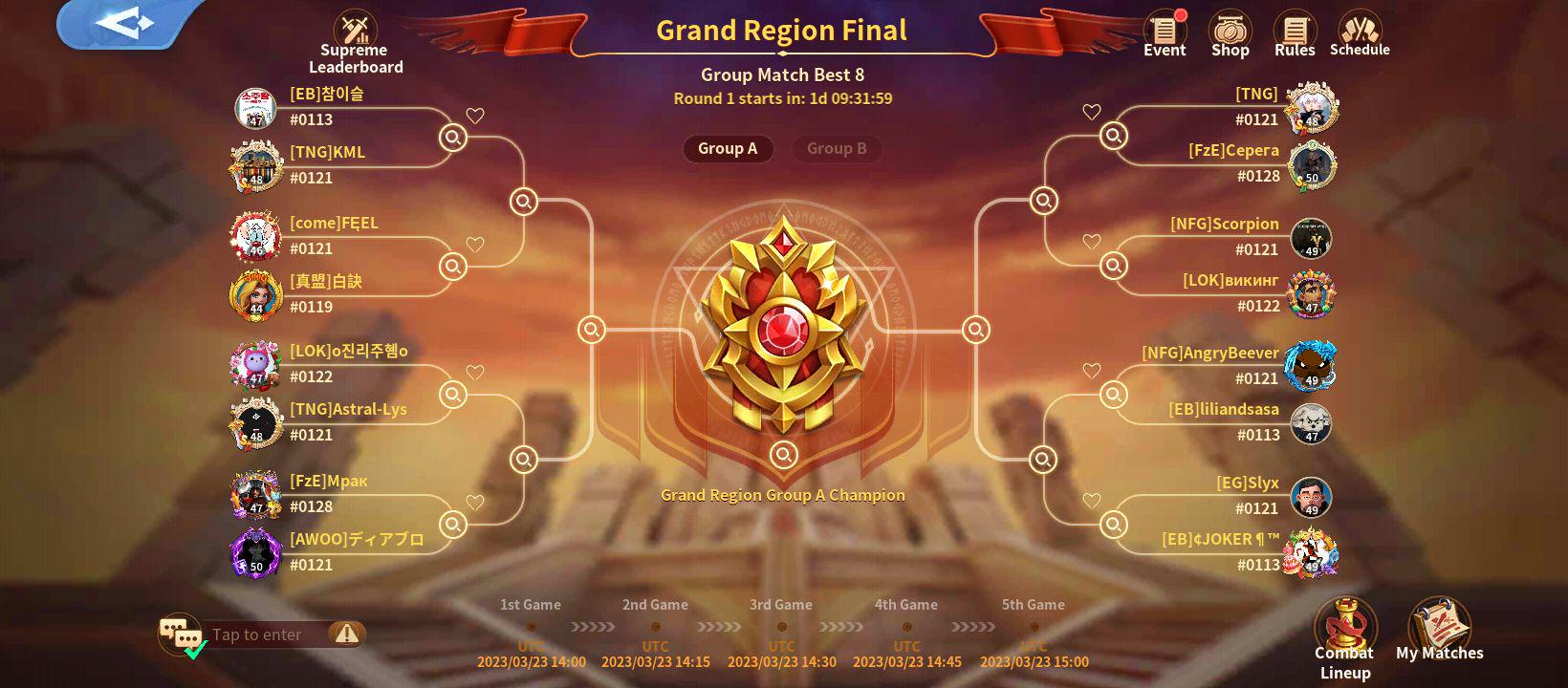 The first to be discussed here is the Group A from Brackets' 15. Basically, this Grand Region is the top players on Brackets'15 in Season 10 of the Throne of the Supreme. Because it is already a long steps has been taken for the entire participants.
Group A consist of Server 113; Server 119; Server 121; Server 122 and Server 128 with following details; 8 Lords from Server 121 represented by 2 Lords from NFG as Ruslan Kingdom, 1 Lord representative of EG as Vitas Kingdom, and 3 Lords TNG's representative as Ydvia Kingdom. There is also 2 players outside main Alliance, namely AWOO and [come]. On the hand there are 3 Lords from Server 113, beside that Server 119 with 1 representative, Server 122 with 2 Lords as representative, and Server 128 will having 2 Lords to play in the Grand Region Final.
Winner in Group A, still not decided yet, the result will be published in the next week.
🏅 2.) Group B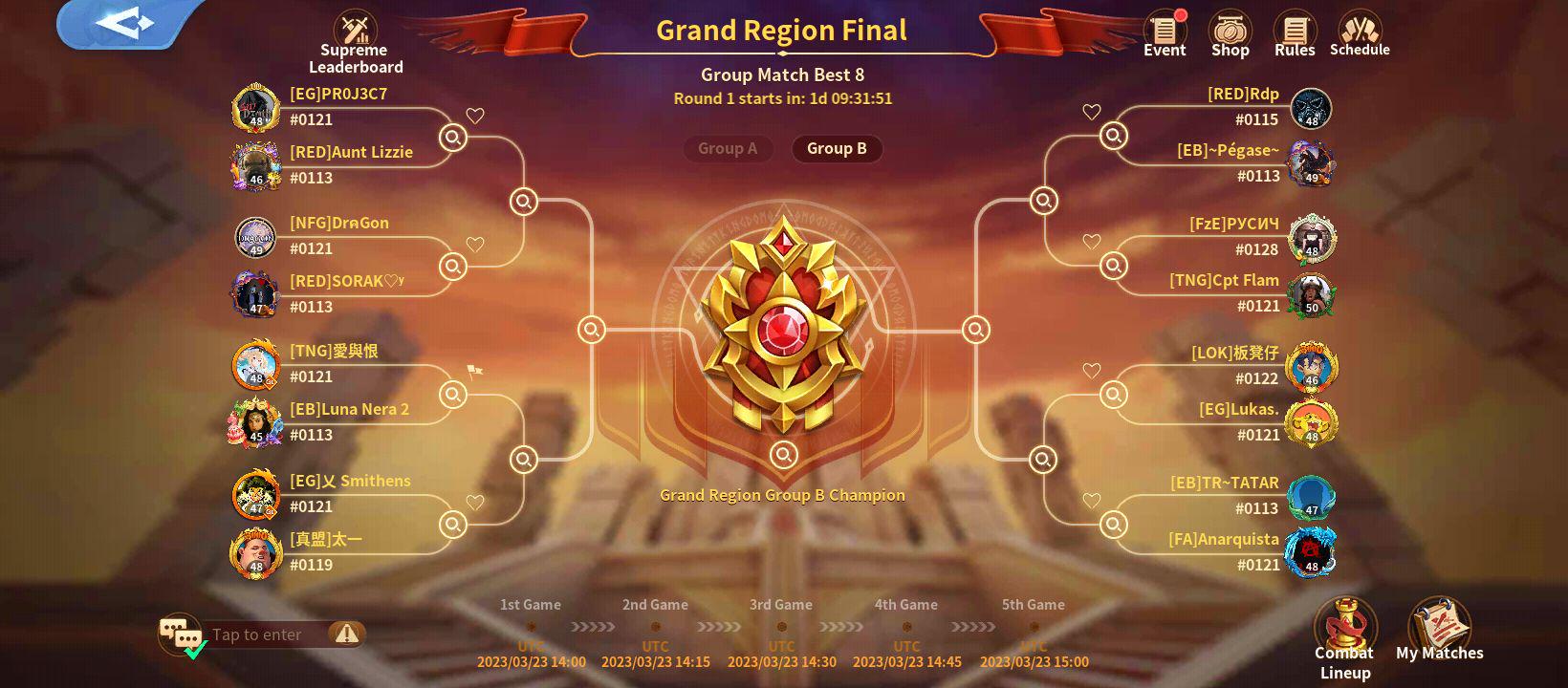 What is happening on Group B in Season 10 Throne of the Supreme on Brackets' 15?
In Group B there are several Servers, with following details; Server 113 represented 5 Lords in this group, Server 115 represented one lord from RED Alliance, Server 119 represented one lord, Server 121 represented 7 Lords in Group B, Server Both 122 and 128 represented one lord in Group B with total 16 Lords in this group will killing each others to get the Throne of the Supreme Champion.
📚C.) Conclusion 💠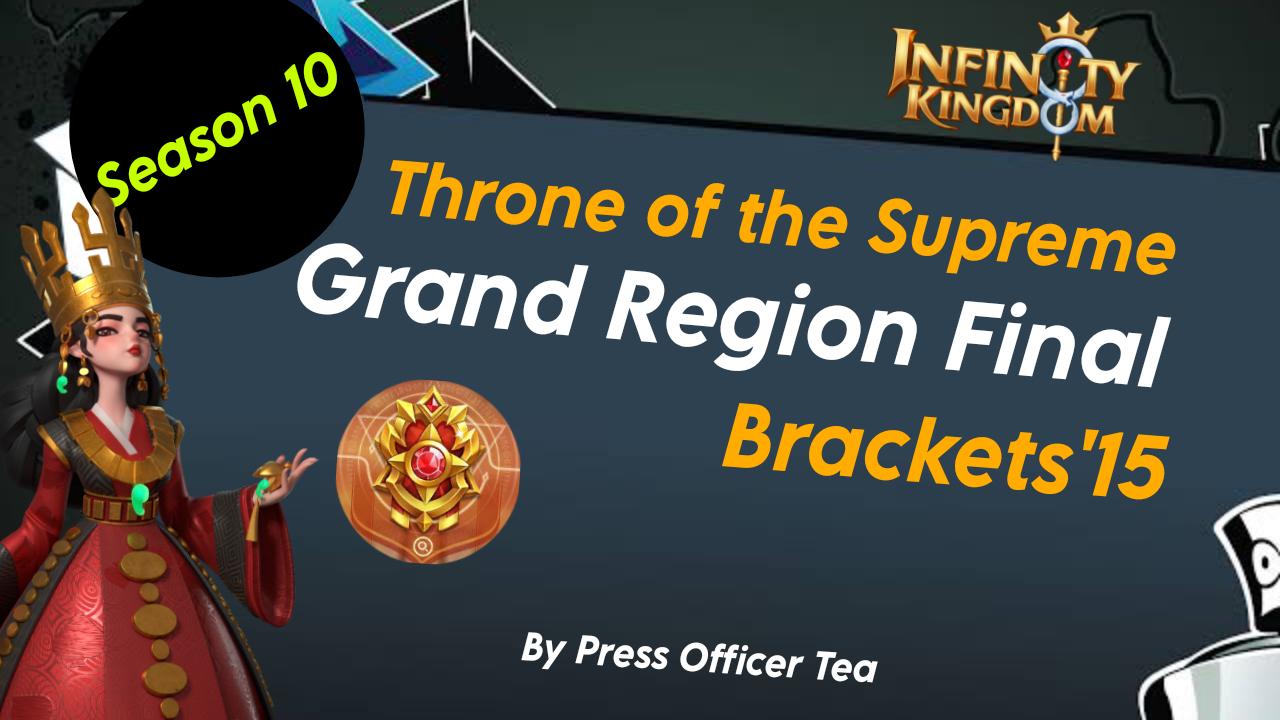 In this analysis article it can be concluded that the servers that will advance to carry out the competition include Server 121 with 15 Lords who will fight, and Server 113 with a total of 8 Lords, and the rest are scattered, but several servers have been eliminated such as Server 126 and Server 118. Let's see the results in next week's article! Let's play Throne of Supreme and be the winner to get an interesting rewards!
✨ Thank you for reading; maybe it was helpful and will assist you to learn more about Analysis Grand Region Final in Bracket 15 Season 10 ~! ✨
📚 D.) Reference 💠

📚 E.) Additional Informations 💠
You can also check my latest post and articles!
⭐ Direct Link: 
⭐ Download Link: 
Android: Here!
iOS: Here!
Huawei: Here!
PC: https://infinitykingdom.gtarcade.com/
⭐ Infinity Kingdom Official Page
https://infinitykingdom.gtarcade.com/
#infinitykingdom #review #throneofsupreme #grandregionfinal #analysis #bracket15 #season10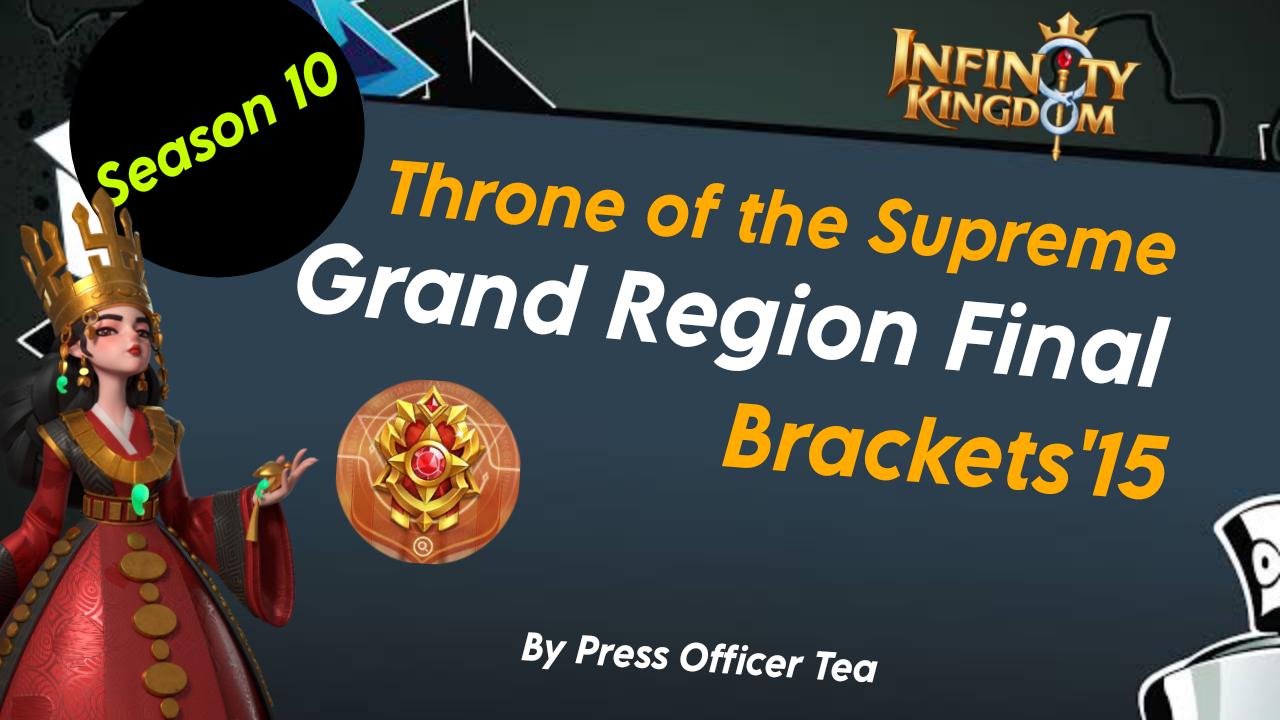 Translate