GTarcade App
More benefits, more surprises
Get
Hey, my dear Lords and Ladies,thank you all for your love and participated in our last event! Rewards have been sent via in-game mail to the winners listed below. Please don't forget to check them out!(☆ω☆)Seems like many Lords forgot to take part in our last Feedback Wanted event, bu sure to come next time! Thank you all!
P.S:We can not find Lords in the yellow area, please make sure to give us your correct ID!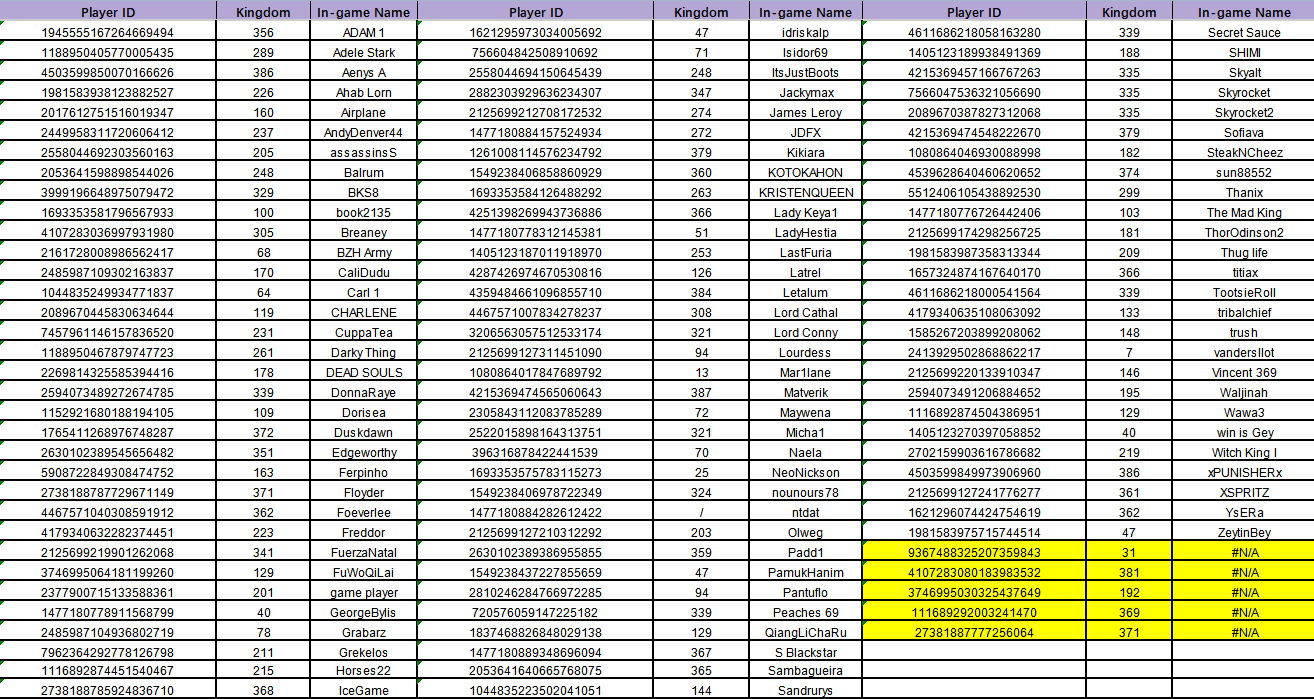 GoT Winter is Coming Team
______________________________________
Greetings Lords and Ladies!
This is the 66th poll about updates and we are looking forward to reading your feedback hence reporting to our Old Gods. Check HERE to learn the details of the update on Feb 23rd.
Sure in this update, you will find out that there are many changes and adjustments to the Weirwood Tree Trails and also the Promotion System of Commander.
For Weirwood Tree Trails, here comes a new AFK gameplay for our Lords and Ladies. With this new Weirwood Tree system, the whole operation process will be clearer and simpler. Every stage will become a 'one-time stage' and clear it will get "first-clear" rewards. With more stages cleared, the rate of gathering gains will increase and will be displayed in the upper left corner of the screen.

To get Weirwood Tree Gains for now, there are two ways:
1.If you still have some stages that are not cleared, you can improve your commanders and try to clear all remaining stages in order to get maximum rates of production, then u can just wait for the gains generated over time.
2.Or you can use the item 'Sprit of Weirwood Tree' to get more 'Stamina' and 'Blitz' the stages to get gains immediately.
Please tell us how you feel about the Weirwood Tree Trails in the new version to help us make it better!
For the part of Commander, devs have optimized the Promotion System. In the new version, there will be no more Commander Equipment and no need to blitz stages so many times just to collect some elements of equipment. Those annoying operations have become history. In this version, Lords and Ladies just need items called 'Promotion Medals' to help commanders to get to a higher level. For now, commanders need to be promoted every five levels by using Promotion Medals. And some players may have noticed that some of Commanders' level has been demoted, but please don't worry about that, because all players affected by this issue have been compensated with sufficient Promotion Medals and just need to upgrade and promote corresponding commanders.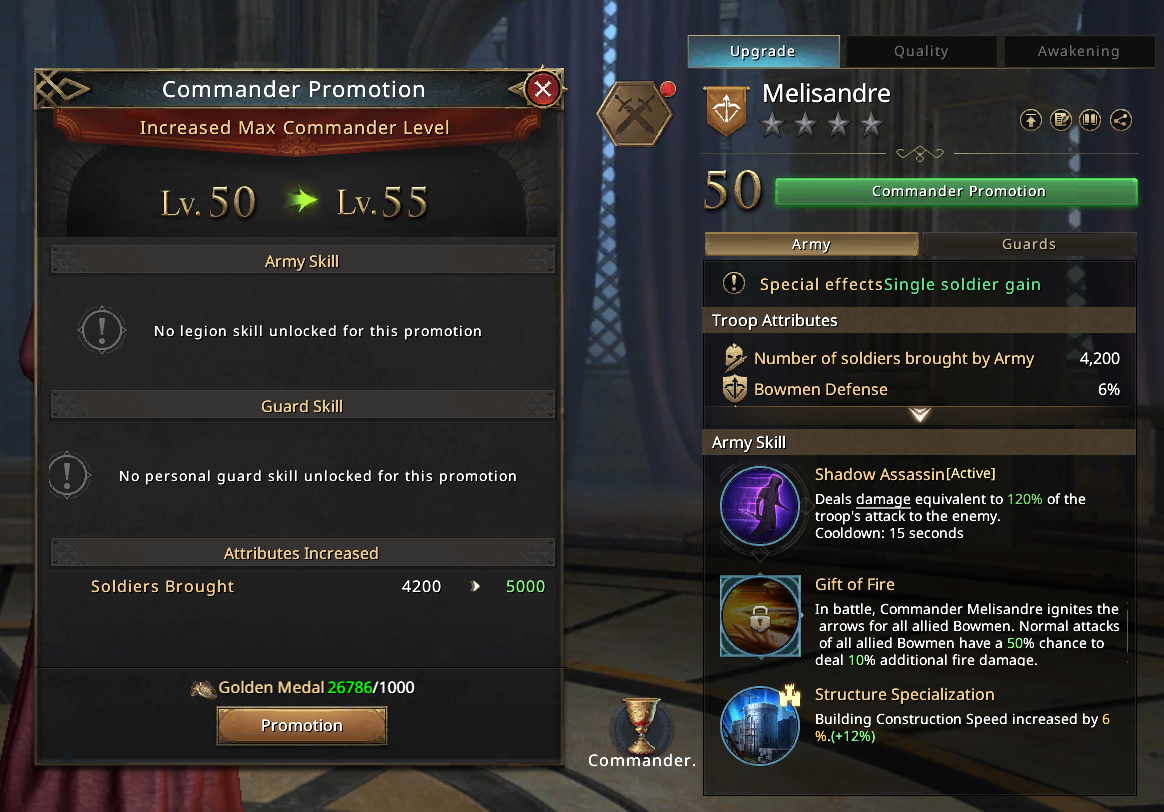 Are there any problems or issues as you try to get used to the new promotion system? Please leave a comment to tell us!
And in this update, general grain consumption of troops has now been reduced by 30%.This change will indirectly reduce the cost of training troops for all the players. How do you like it?
Please be sure to VOTE based on your true feelings about the update in order to help make improvements. Post your feedback in a new reply and get a chance to win awesome rewards, more importantly, to help make the game better for you and all players!
Event Duration: 00:00, 27/2/2023 – 23:59, 8/3/2023 UTC
Event Rewards:
100 lucky players will be randomly selected to receive Speed Up 3 Hours*5, Honor Banners *10, Truce 24 Hours*1, [Rare] Badge Chest*1, Diamond*2,000
Event Rules:
Post your feedback in a NEW REPLY.
Your reply should include your ID and kingdom number (e.g. ID:1234567890123456789, K20). [You can check out your ID in More>Customer Support.)
Notice:
Please leave the correct ID and kingdom number so that rewards can be well received. Limited to one entry per player.
The winner list will be published and rewards will be sent to you in-game mail within 3-5 working days once the event ends.
Translate