GTarcade App
More benefits, more surprises
Get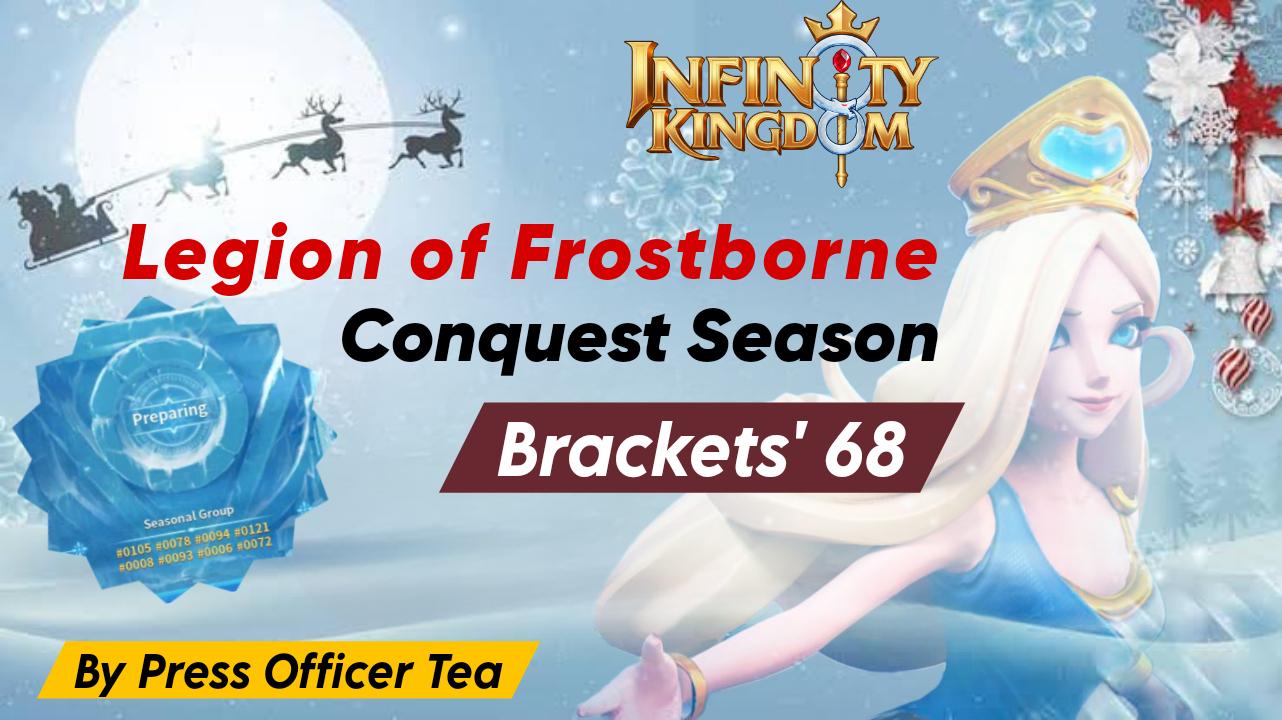 Welcome to the Infinity Kingdom's Forum!
A.) Introduction
Hey Yo!
What's up dude and dudettes?
I hope you are having great weekend!
I'm so glad to have you back in my article, Press Officer Tea, this time we will talk about the Latest and Hottest topic currently in the Infinity Kingdom namely Legion of Frostborne. What should the reader expect from this article? then, What does this spotlight contain? also, How does this event perform? This article is expected to provide an overview and getting closer with Legion of Frostborene for the first Overview on Brackets' 68 in Conquest Season in the Infinity Kingdom to let you know how this event works, especially for the beginners. 
Let's see together in more detail regarding how this ranking event works!
🏆 B.) Legion of Frostborne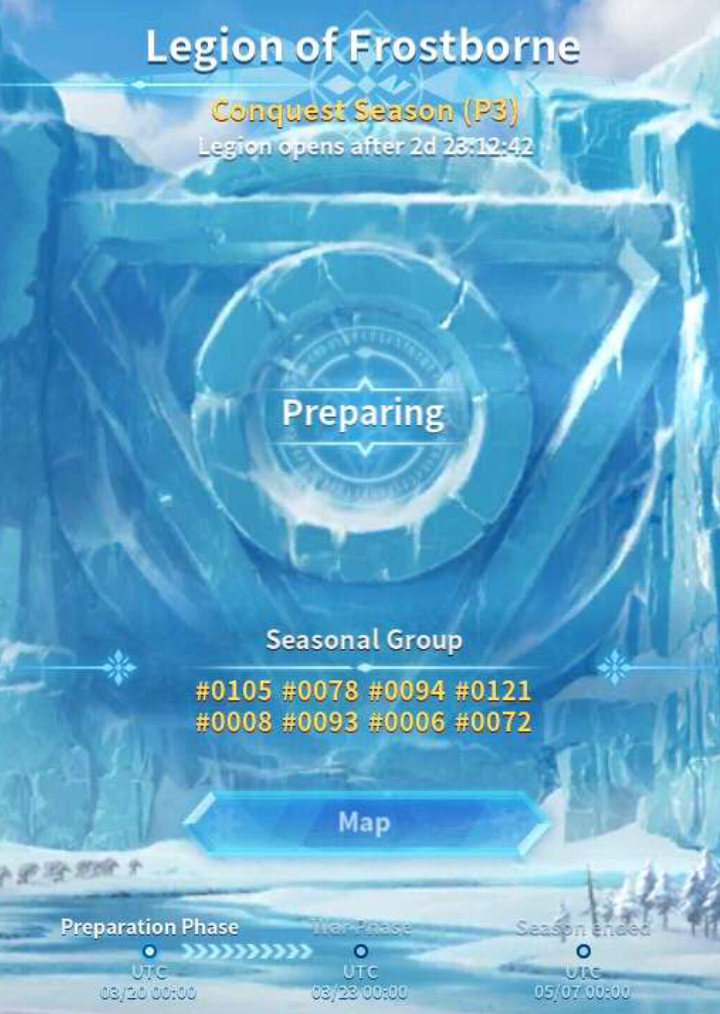 Do you know what Legion of Frostborne is? How far do you know about Legion of Frostborne Brackets' 68? The Legion of Frostborne is a place for eight servers that are unified on the Frozen Realm map. Each bracket has 8 Servers as the starting point on this Frozen Realm map. 
In Bracket 68, there are 2 Season Conquests are combined, namely Conquest P4 and Conquest P3. 
The Conquest P4 servers consist of Kingdoms:
1.) Norheim#0006;
2.) Norheim#0008;
3.) Norheim#0072;
4.) Norheim#0078;
5.) Norheim#0093; and
6.) Norheim#0094. 
For Conquest P3, it consists of Kingdoms:
1.) Norheim#0105; and
2.) Norheim#0121.
Therefore, let's take a closer look at the Brackets' 68 in more detail to find out the Frozen Realm on the Legion of Frostborne in Conquest Season.
✨ 1.) Map Distribution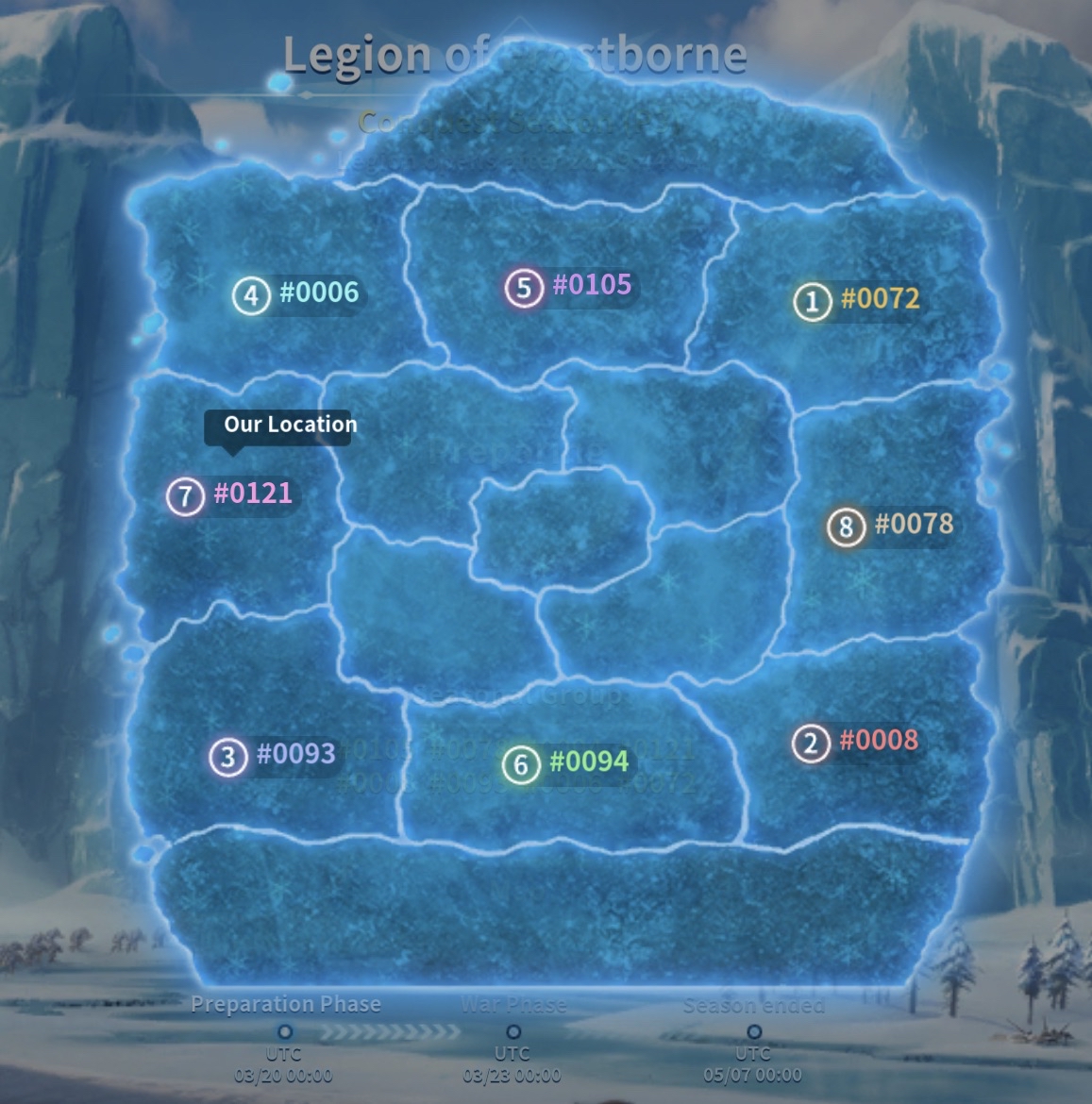 In general, the distribution of the Frozen Realm map by default by the system can be seen that 4 Servers that occupy a large map with a sufficient probability of winning are on average the top four, namely Server 105 with Purple, Server 78 with Brown Chocolate, Server 94 with Green, and Server 121 with Pink. The big question is why Server 94 is indicated as a server that has a high win rate by occupying a position on a larger map? But on the Frozen Realm map when looking at the Leaderboard Ranking we can't find it? This is because this server has migrated to Server 105, lots of Exclusive Players have moved and have an average Strongest Troops power above 380,000 to 450,000. This is the reason why Server 94 is classified as a server that has a larger map.
🏅 2.) Countdown Timer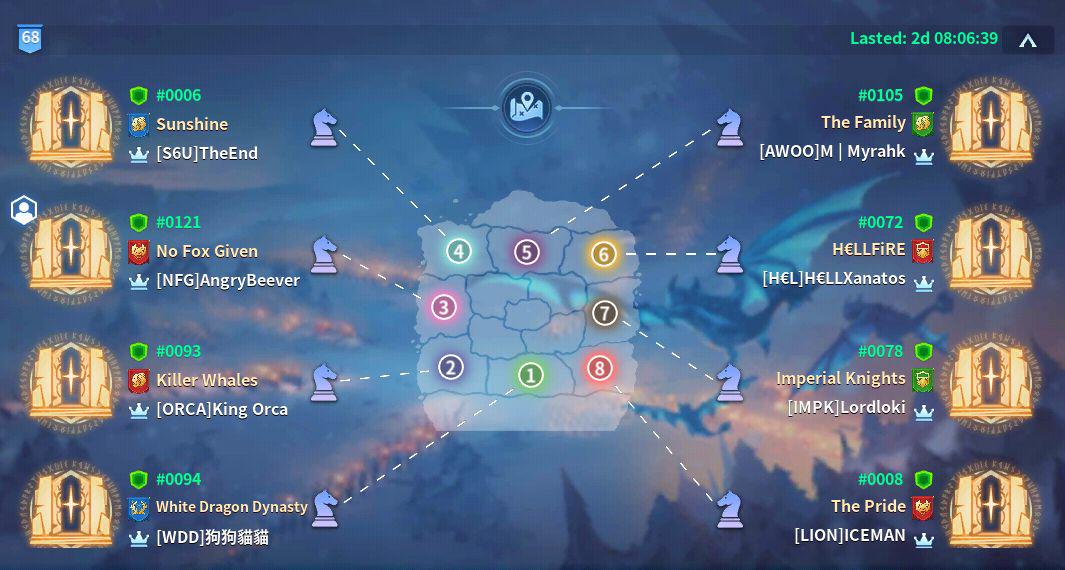 Do you know how long the Legion of Frostborne or commonly known as KVK lasted? Basically, KVK will last for 45 days from the Resources gathering phase to taking the Gnome Capital or what is known as Ymir. There is 43 days left until this Conquest ended, however the phase could have been shortened by conditions such as a quicker retrieval of the Gnome Capital, such as not enforcing Ymir's rotation.
📚C.) Conclusion 💠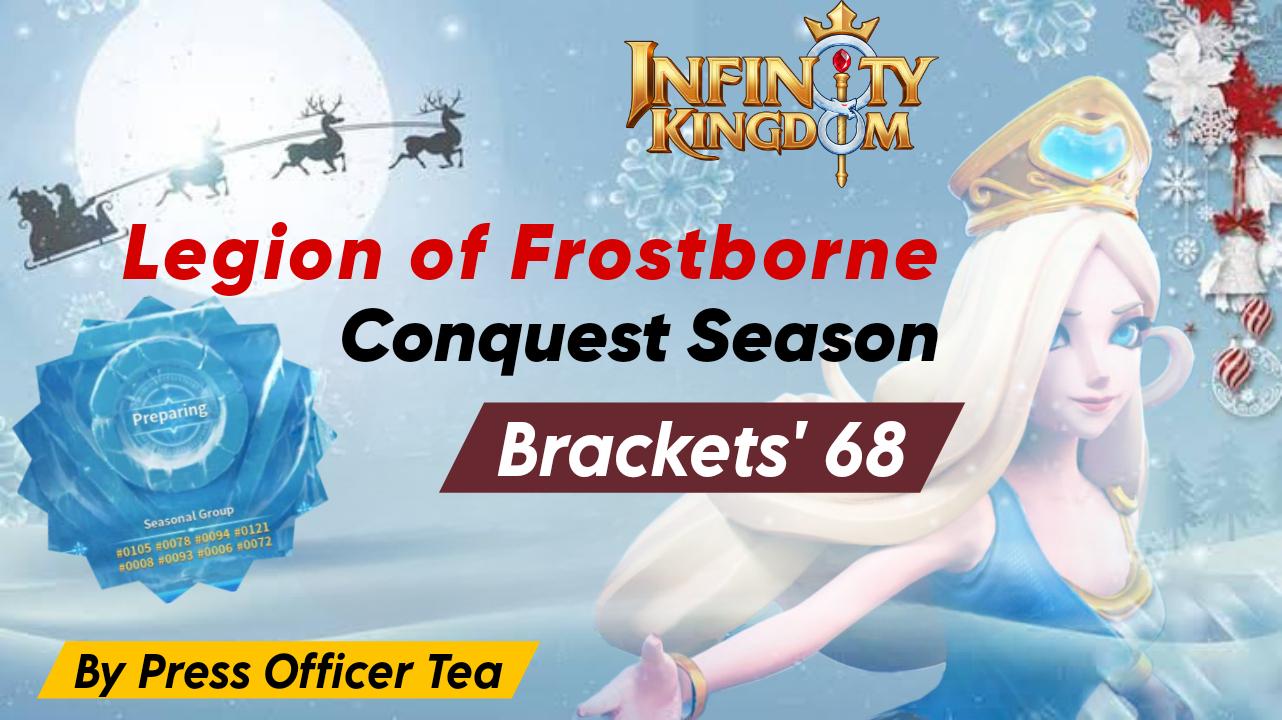 In this article, we can conclude that the servers that will compete for 45 days in the Conquest on Brackets' 68 for season P3 and P4 consist of 8 servers, this Brackets' is not as active as previous one which is Brackets'45 that included tons of Exclusive Players on the Norheim Server in the Infinity Kingdom, but this Bracket still can be decent one from many other Bracket in Conquest P3 and P4. Nevertheless don't forget to do your best and good luck 💖
✨ Thank you for reading; maybe it was helpful and will assist you to learn more about Frozen Realm Map Brackets' 68 in the Infinity Kingdom~! ✨
📚 D.) Reference 💠

📚 E.) Additional Informations 💠
You can also check my latest post and articles!
⭐ Direct Link: 
⭐ Download Link: 
Android: Here!
iOS: Here!
Huawei: Here!
PC: https://infinitykingdom.gtarcade.com/
⭐ Infinity Kingdom Official Page
https://infinitykingdom.gtarcade.com/
#infinitykingdom #review #legionoffrostborne #kvk #frozenrealm #bracket68 #conquest #p3 #p4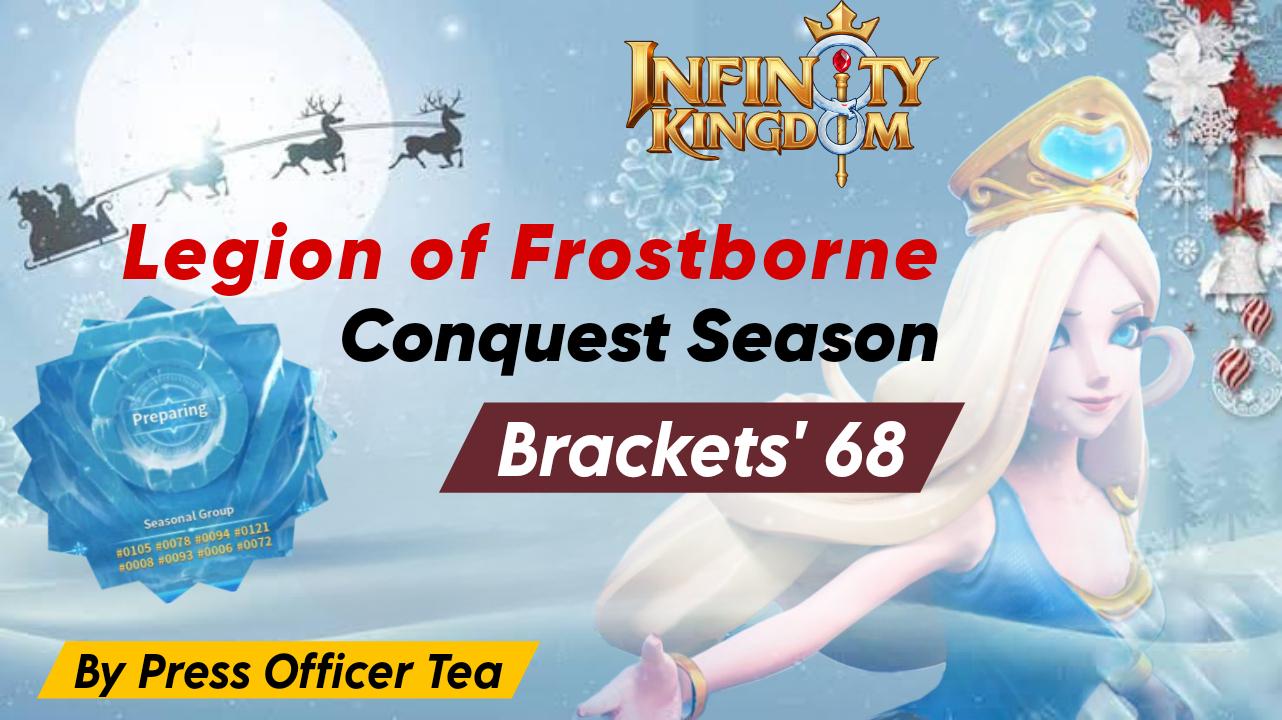 Translate