GTarcade App
More benefits, more surprises
Get
Dear heroes,
To provide you with a better and more comprehensive game experience, enjoy more fun in the game and meet more friends, we will arrange a server merge. During this procedure, all players will not be able to log into the game. Please be prepared in case of unnecessary loss.
【Server Merge Time】
2023-01-06 01:00-05:00 (UTC-5)
2023-01-06 07:00-11:00 (UTC+1)
2023-01-06 14:00-18:00 (UTC+8)
【Merged Servers】
(The main server is the one with smaller numbers)
Group1:EU-235,EU-240
Group2:EU-236,EU-239
Group3:EU-237,EU-242
Group4:EU-238,EU-241
Group5:US-249,US-257
Group6:US-250,US-259
Group7:US-251,US-258
Group8:US-252,US-260
Group9:SEA-213,SEA-218
Group10:SEA-214,SEA-217
Group11:SEA-215,SEA-220
Group12:SEA-216,SEA-219
【Rules】
1. Login
1) Login entrance will not be changed. If Server A is merged with Server B, please choose Server A for Server A roles and choose Server B for Server B roles.
2) If you need to create a new role, please create it in the main server, which is numbered with a small number.
2. Re-name
1) Change the name of the character: One character's name will be randomly selected to be retained, and the rest of the character names will be changed to the original character name plus the server suffix. We will issue free rename cards to players whose character names have been modified.
2) Change the name of the guild: The guild name of server A will be kept, and a suffix will be added to the guild name of server B
3. Deleting inactive roles
Roles meeting the following rules will be deleted
1) Below Level 60
2) Amount of recharge is 0
3) Not login the game for over 7 days
4) And not a guild leader
4. Ranking
1) Arena: Top 1500 players with the highest power will be selected, and will be re-ranked based on their power.
2) Guild ID: ID will be ranked based on the level of the guild. If the levels are the same, ID will be reset based on the time of establishment, numbered from 1.
3) Overall ranking, guild ranking will be re-ranked according to the data of players after server-merge.
4) Grand Realm, Guild Race Ranking, and Endless Abyss will be re-ranked based on the current player data.
5. Events
1) After the server merge, all events are subject to the main server. If the events of the two servers are not in the same phase, server B's event will be closed, and server A's event will be reset. Players of server B will be affected.
2) Specialized event arrangement
Cross-Server Cloud Sale, Cross-Server Ranking: If server A and B, and A and B are not in a cross-server group after B is merged into A, the data of B will be cleared. All data will be subject to server A.
Server Gifts: Data is based on server A, and data of B will be cleared.
Glorious Treasure Hunt and Server Cloud Sale: Phase of Glorious Treasure Hunt and Server Cloud Sale, number of treasure bought are subject to server A. Data of server B will be cleared.
Lost City Treasure Hunt: Clearance record and reward claiming the status of Joyous Lost City are subject to server A. Record of server B will be cleared.
6. Territory War
After the server-merge, the territorial ownership is based on the territory that the main server owns.
7. Level of servers
The level of the merged server is subject to the level of the main server.
8. Trade
Items and time left before the server-merge will be kept.
9. Guild War
If the merged server is included in guild war this week, the merged server cannot participate in the cross-server guild war this week.
Team of Forsaken World: Gods and Demons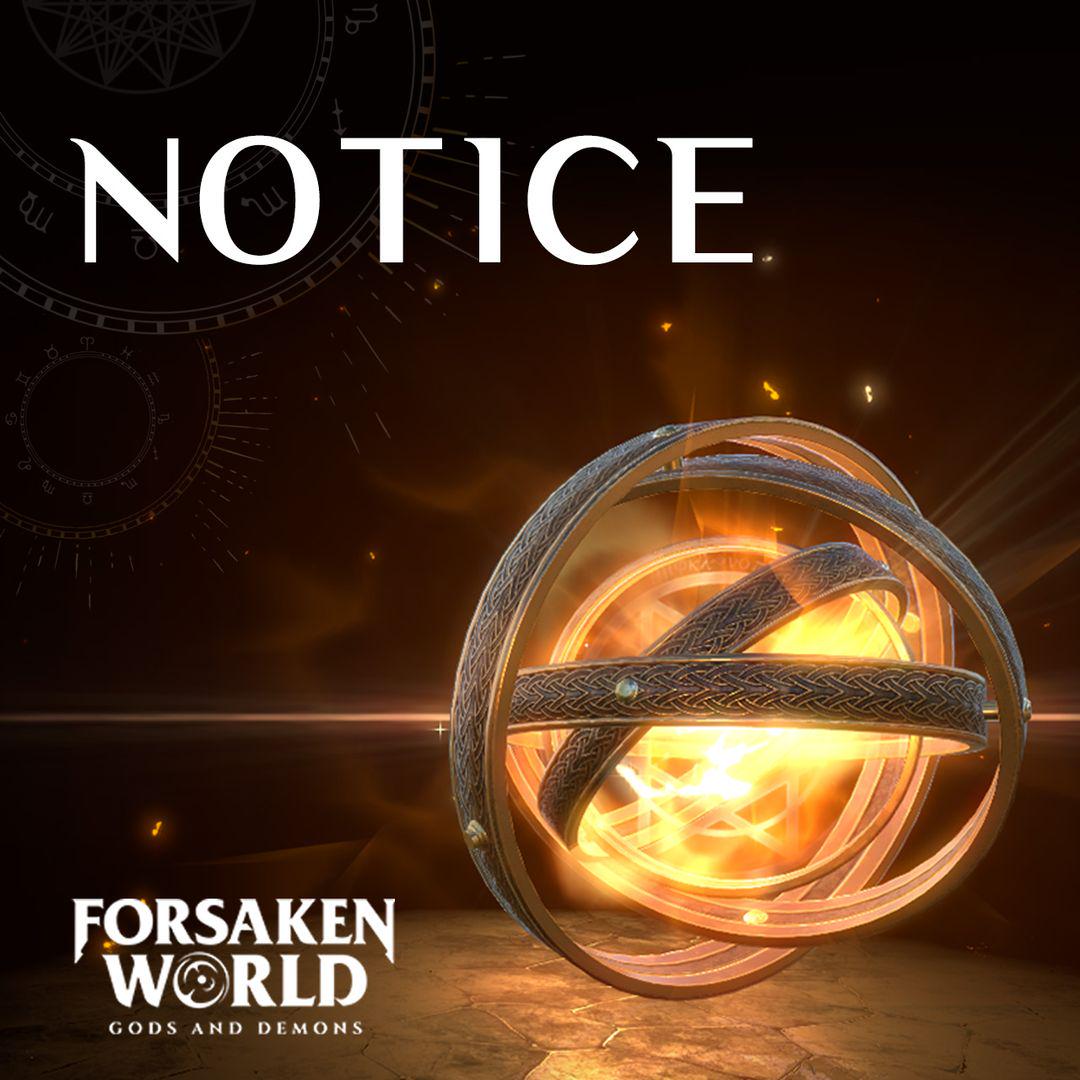 Translate