GTarcade App
More benefits, more surprises
Get
To win the Dragons' recognition, the drums of war have been beating again.
Requirement: Players with castle level 17 or above.
Entrance: Click "All-Out War" on the Cross-server Page.
Please check out the notes before you check out the detailed rules.
1. Battle Losses
Your troops will NOT die in All-Out War. All participants will receive 10,000,000 soldiers that they can freely demand. You can select any troop types that have already been unlocked and send them on expeditions when they are deploying troops.
2. Battle Attributes
Changes in a Lord's upgraded attributes will NOT affect troops that have already been deployed on expeditions.
3. Season Clearance
All All-Out War Speed Up items, Water of Revival, and Return to City Runestones that Lords own will expire when the current season ends.
4. Troops, Commanders, and Dragons
When troops, Commanders and Dragons are deployed in All-Out War, they CANNOT be deployed in Westeros.
5. Captives
Even if a lord is captured in Westeros, Lord deployment will remain UNAFFECTED in All-Out War.
6. Commander Permissions
Faction commanders' permissions: declare war, issue commands, post-construction quests and chariot production quests, distribute chariot vehicles and block a certain non-commander of the same faction.
7. Army Size
The Army Size buffs from the Sept of the Seven will NOT take effect during the All-Out War.
8. Moving Speed
Moving speed in All-Out War is similar to that in Siege of Winterfell.
Moving Speed: Cavalvry> Spearman>Infantry>Bowman (T1>T2>T3>T4)
9. Impeachment and Blacklist
Impeachment: A Commander can impeach another Commander, after which all other Commanders have to cast their vote. If more than half the Commanders agree, the impeachment is successful. The impeached Commander will no longer be a Commander and lose all Commander permissions.
If some Commanders do not cast their votes, they will be considered as having voted to reject impeachment.
Blacklist: Commanders can block a certain non-Commander Lord of the same faction in Warehouse or Barracks. Upon being blocked, the Lord will not be able to claim faction resources from the Warehouse or deploy troops from the Barracks.
Note:
Video Guides: You can check out the chronicle video guides here>> https://forum.gtarcade.com/topic/76804 (Please note that the guides are based on the Pioneer version and don't represent the final version.)
Chronicler Guides:
[Multi-language]All-Out War Guide Pioneer Version>> https://forum.gtarcade.com/topic/71374
For more guides, please check out "All-Out War" Section>>https://forum.gtarcade.com/forum/1/sub/123
Take a look at the event schedule and detailed battle rules below.
Event Schedule
A season of Glorious Battle is divided into 5 phases: Registration Phase, Matchmaking Phase, Allocation Phase, Battle Phase, and Results Phase. More details can be checked in-game.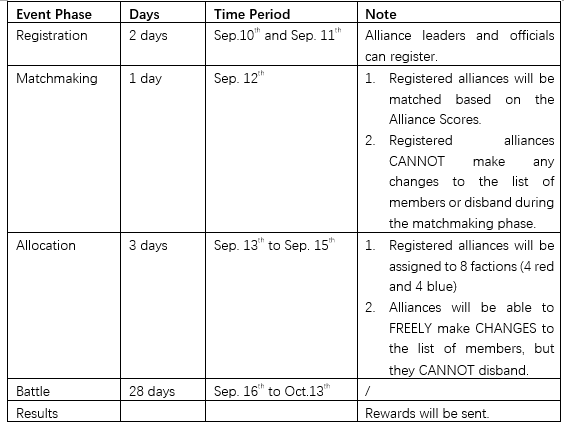 Please note that the above content might be changed due to the changes of the development plan. Final updates will be determined in-game.
Translate