I have issue ,I hope that forum team is capable to help me. I'm chronicler and I mostly write stories. The story that I left trough the link down there can not be pasted here fully ,because ''too many pictures'' ,I seek help.
This is problem I'm facing when I try to post.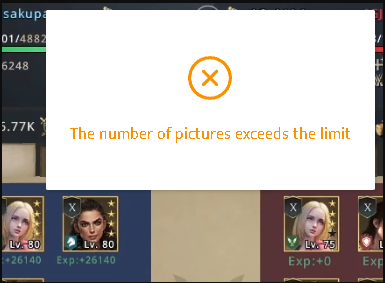 This is story itself ,which should be possible to get open once clicked on link (blue letters).
As a chronicler who works rather for quality then quantity I face problems for my future works. I feel like someone asking me to run marathon in a room where I'm not capable even to stand ,then how could I run ?
I know this so far looks mostly as a critique ,but before I put suggestion I have to name issue that I'm facing while trying to do my job.
I would like if there is possibility for moderators of this forum or developer who ever is in charge of this ,to allow me to work smoothly ,without interference.

I'm very concerned for my work ,as I cannot express my art in full and I face issue with applying new work in this and future weeks that are in front of me.
I again repeat that my suggestion is to allow bigger number of pictures per story ,as I suggest for chroniclers to receive they own board in the forum since we are pushed that our work in the form of stories has to be published here on forum and not anymore in ''Docs''.
I'm very excited with possibility to share my future (as do old ) stories here ,but above all I seek help.
I feel that my hands are tied and I do seek help here ,because I do not find other place to get help on this topic.
Thank you in advanced for your reply.
I hope that I was polity in my text as English is not my first language ,if any official of this site felt by any mean called or attacked by any of my words ,I apologize in advanced as there was no such intention and it can only be my bad expression from my native Serbian to English.
I look forward to solving the problem.
Cheers!!!
Translate