GTarcade App
More benefits, more surprises
Get
Dear reader, my friend... you are the person to whom I have been dedicating a large part of my time for a long time. We have had great milestones in our history, and epic moments that have defined our relationship for some time now.
But today is not a simple story, NO. It is a revelation, I come today, KOKARDO I to reveal a truth that until now was not clear, it was suspected, but nobody took it for granted. And I come to rectify that mistake.
We are going to talk about a battle, but not just any, NO
We are going to talk about the battle that ends up establishing an absolute truth, so revealing that no one else in all of Westeros will ever be able to doubt its veracity.
I know that I would have to write about one character, but this time, I will take a license, and talk about an entire alliance also!!
But let's go there. Let's talk about
DEP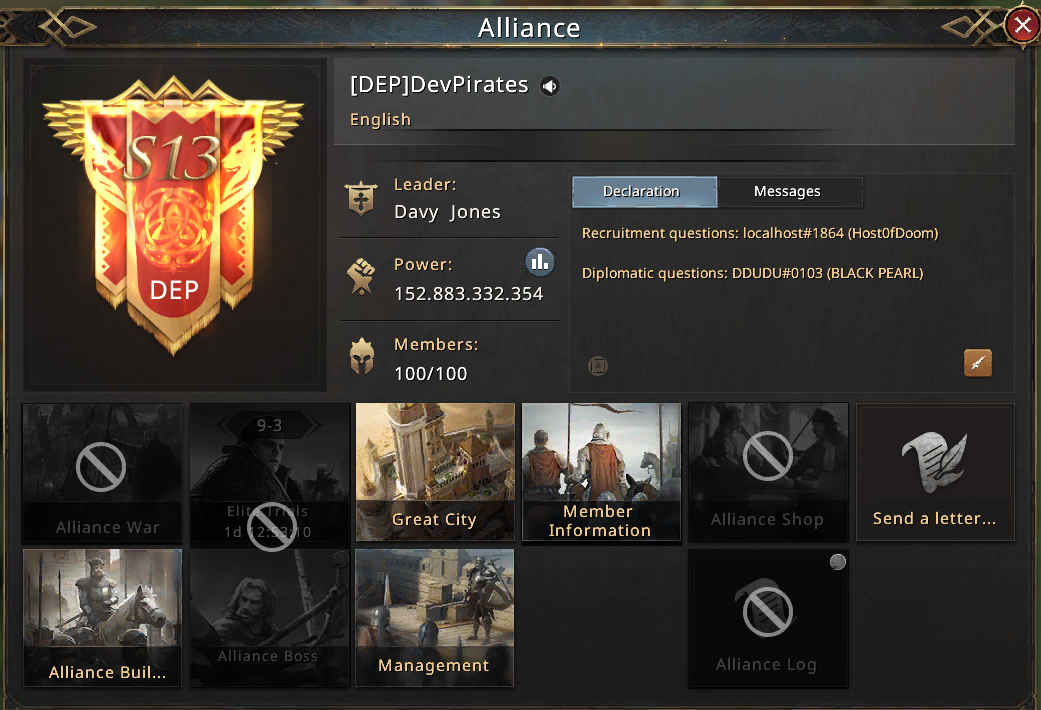 It is said that there was no more terrifying sight in Westeros than the DEP phalanx charging with their war cry and brandishing the fearsome sarissas, the long spears characteristic of Flying Dutch troops. His army was, without a doubt, the best and deadliest war machine to emerge in Westeros to date.
But let's stop going around, and let's go... let me tell you about the massacre that I witnessed last night. Let me give you details of what was, in my opinion, the last battle necessary to consecrate, there at the top of all our history in Westeros, DEP.
THE DIFFERENCE IS SO BIG, THAT I HAVE CALLED AN EXPERT TO TRY TO UNDERSTAND WHY


After the battle, you're going to be able to hear an expert in the arts of war, from Alliance Conquest, from Ultimate Conquest, and this will give us a clearer view of how DEP can do what it does.
We consider this expert, one of the people with plenty of titles to give an opinion on the matter, and shed light on this topic.
But let's go to battle, no more words!!!
The beggining..
You will see that DEP won 3 of the early races, and made good swaps on time.
We are not very used to DEP winning races, it was always another case of brute force, but you have just seen that even in that, they were superior. And mastering this, they already pass to the God level within Westeros.
Ok, let's see BDR's reaction and how the battle continued, which....at this point it was too early to say that it was going to end the way it did. There were still HOPE
I'm not saying anything fancy when I mention that winning and holding Ports is as vital as Casterly Rock.
Let´s check what happened!!
Ok, so far we saw a contained DEP, which did not unfold its full potential... hehehe
They were just clearing their throat, please don't stop looking at these documents, before giving way to our expert that will explain us the superiority of DEP!!!
Here is the final of the battle, and you will see God´s rage on earth
And also, here you will see the character of our story,
Well, in order to analyze this phenomenon, I went to the Citadel, and consulted with the Grand Master of War.
He is a man who together throughout his life, a wisdom that makes him UNIQUE to give his opinion on this issue.
Without further delay, with you a Lord that will put some light on this topic.
LORD GIGGLES THE EXPERT!!
WISE WORDS MY LORD!!!
So to complete my chronicles, here some reports for you!!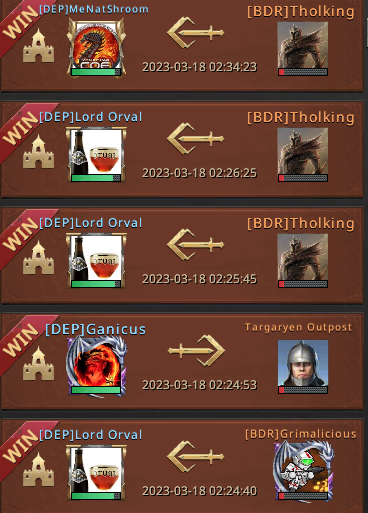 To end, I would like to congratulate all competitors, and an special congratulations to the CHAMPIONS
DEP
I hope you enjoyed my chronicles, and if so, I ask you to give me a like, because nothing is more important for a chronicler than recognition!!!
KOKARDO I
GoTWiC Chronicler
Translate