GTarcade App
More benefits, more surprises
Get
Ned Stark's relentless foreboding warnings came true – winter in Westeros is here, and it looks like it's going to be fora while. But far beyond the wall, in our world, the season isn't winter – it's weddings.
The wedding system is now available in-game! All players can choose freely to marry someone from the same kingdom or stay single. Whether single or not, you'll gain some stats if you have a ring. Married couples in the game will be able to unlock exclusive skills by increasing their Charm to level up their wedding rings and activate Truce for both. The whole wedding process will last about 30 minutes in the game. Read on below to learn more details.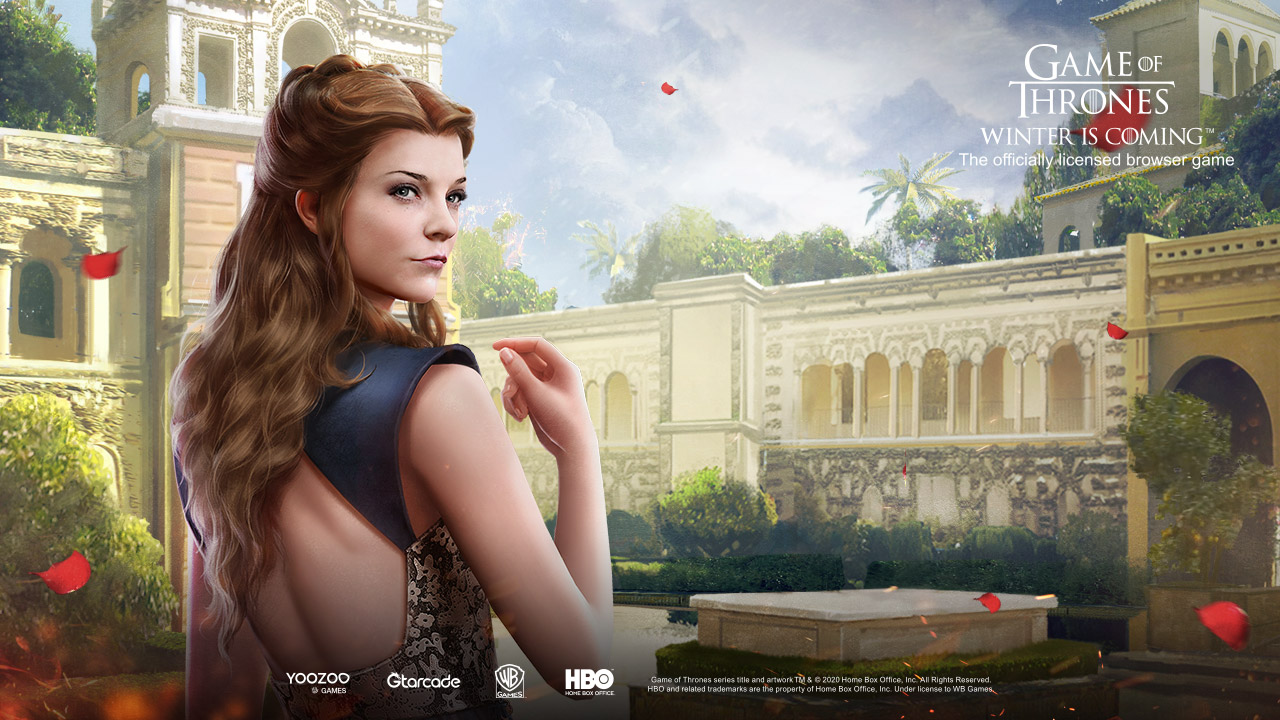 Entrance: Click the building "Ceremonial Sept" next to the main city to access the event.
Requirement:
1. To get married: Two players must be unmarried and be in the same kingdom. 
2. To stay single: Unmarried players can choose to stay single. Meanwhile, if you stay single and swear Night's Watch Oath, you won't receive any proposal message.
*Notice: Only the initiator has to purchase the ring to hold a wedding. If both of you bought the ring, either Diamonds or Black Diamonds that the other partner has spent will be returned. 
If you purchased with diamonds: 10,000 Diamonds will be returned. 
If you purchased with Black Diamonds:  a 500/1,000 Black Diamonds Coupon will be returned.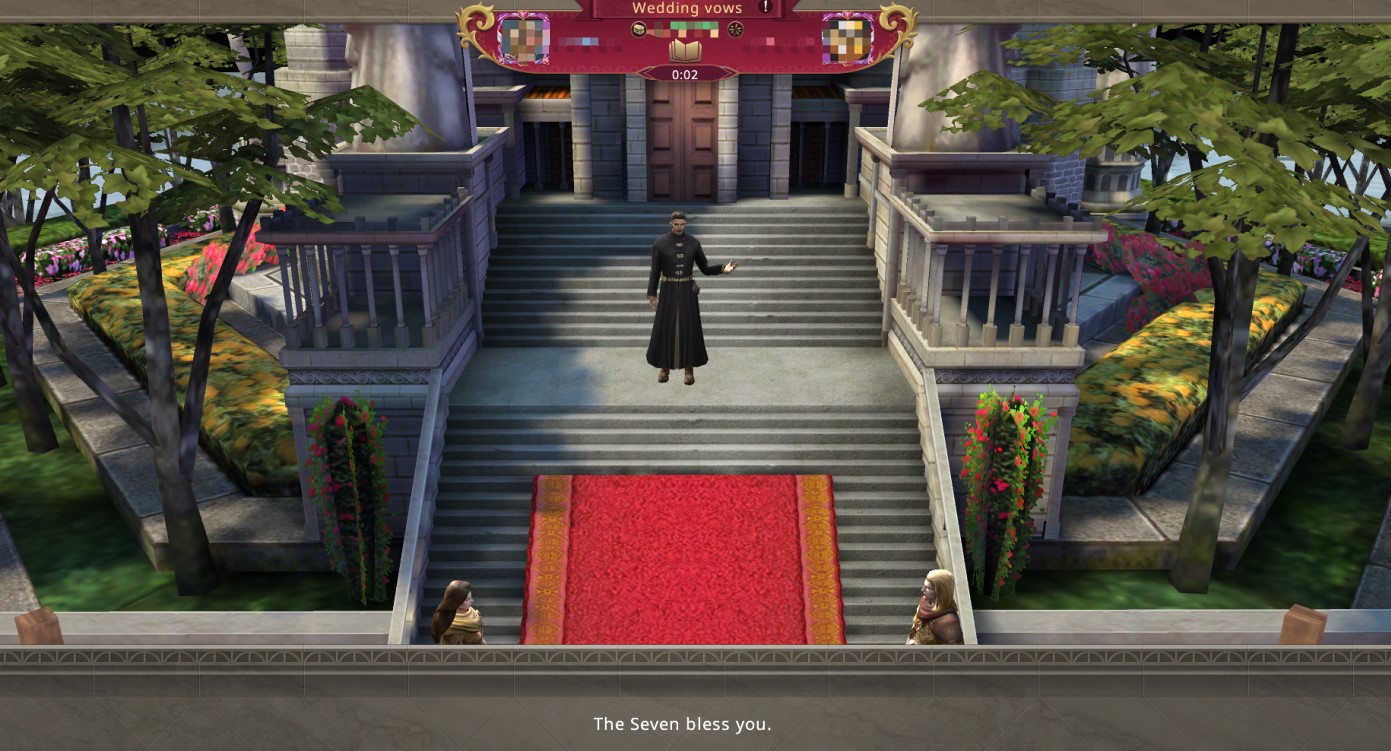 Find Your Beloved One and Hold a Ceremony
Sending an invitation to the one you want to get married to, waiting expectantly for his/her reply, heading to the Sept together, and holding the ceremony with the company of best wishes from friends. The whole wedding lasts for 30 minutes.
*During this wedding ceremony, both you and your partner are truced by the Seven (Don't worry about "the Red Wedding"). 
- Wedding Preparation & Proposal
Weddings come in 3 different grades: Ordinary Wedding, Exquisite Wedding, and Luxurious Wedding. Each wedding package includes a True Love Ring, Wedding Carriage, fireworks and other items required for the ceremony.
*After selecting a wedding, you can still pay the price difference to upgrade to the luxurious wedding.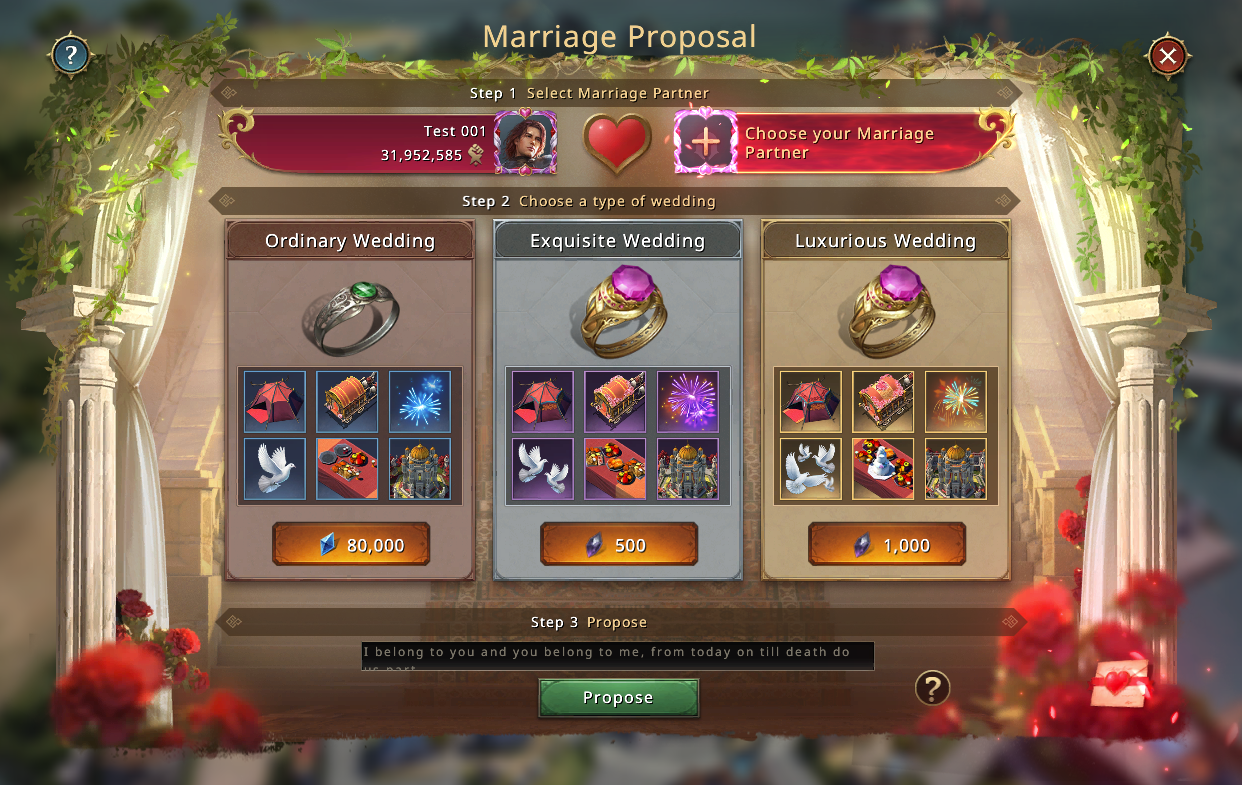 You can only propose to 1 unmarried friend of the same kingdom to marry you. Both of you have to be inside the main city to proceed to the next step of the wedding. Please note that the wedding ceremony can't be held during KvK.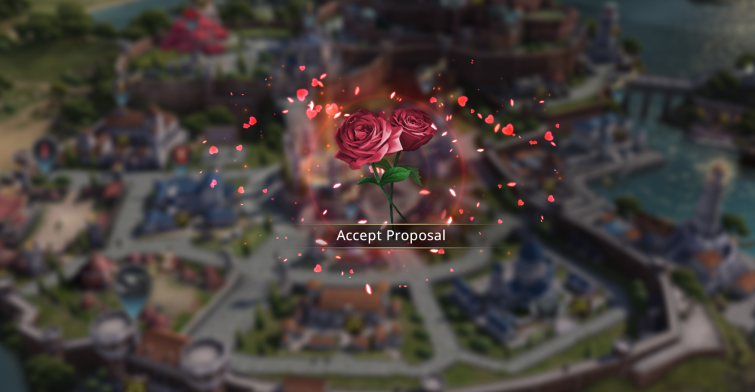 -Wedding Sept & Ceremony
There are three kinds of Sept on the map: Winterfell, Highgarden and Riverrun. The wedding initiator will be able to select any Sept for the wedding. If another wedding is being held in Sept, you must wait for it to end before you can march to the Sept for your wedding.
You can invite your friends to join the wedding. Both you and the guests can send out chests which contain different gifts and set off fireworks to bring up the celebratory atmosphere. A wedding feast is held for all guests, where the guests and the couple can use the wedding-exclusive channel to CHAT and claim Rewards from the chests.
Who will be the lucky dog on the wedding day to claim the most gifts?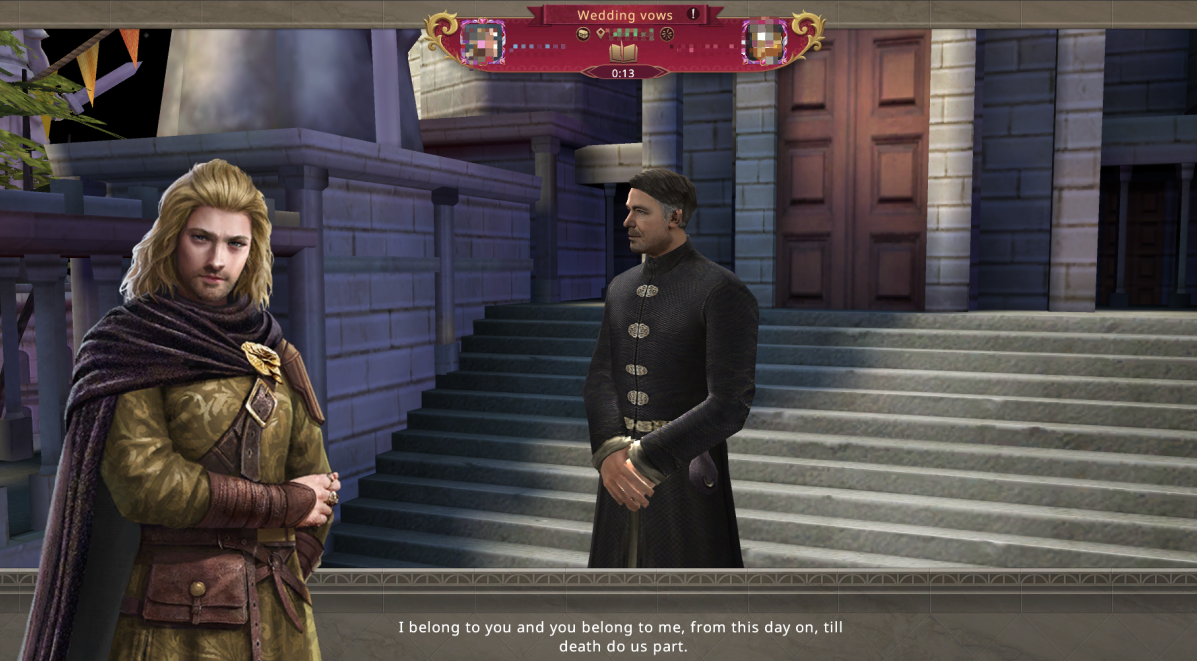 Unlock Exclusive Skills for Married Couples
After holding the wedding ceremony in the presence of friends, married couples can equip and level up the wedding ring that the initiator bought to unlock exclusive skills. Click on the Lord panel to equip the ring, and level up the ring by reaching the specified amount of Charm to unluck 6 Couple Skills.
The married couple will become the protector of each other, and activate Truce immediately if either of you gets attacked. 
1. Love Relocation
Send your partner a relocation invitation, moving your partner's city to a location bordering yours. This skill has a cooldown of 48 hrs.
2. Love Protection
Activates a 4 hrs truce for your partner's city. This skill has a cooldown of 48 hrs.
3. Love Reinforcement
Increases the speed of sending reinforcements to your partner by 20%.
4. Love Transport
Increases the speed of transporting resources to your partner by 20%.
5. Of One Mind
Activates an 8 hrs Truce for your city; if your partner's city borders on yours, this will also activate the same Truce for his/her city. This skill has a cooldown of 168 hrs.
6. BattleTogether
When your partner joins a rally initiated by yourself, your Total Health increases by 7.5%.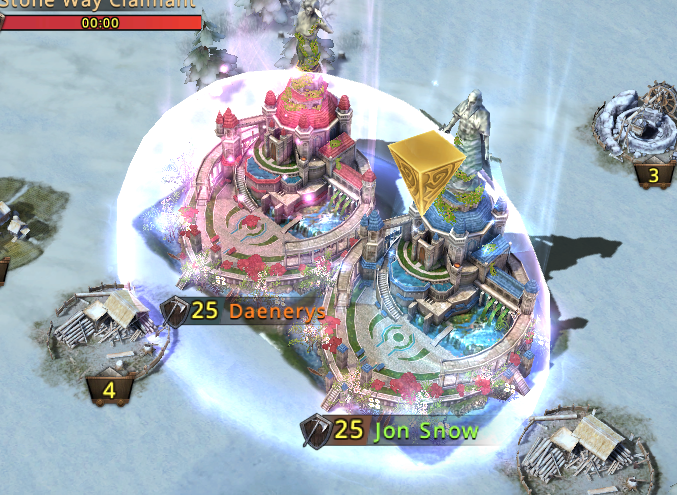 *The Charm items can be obtained from Active Rewards, Benefits-VIP Shop and other events/packs.

Stay Single and Swear Night's Watch Oath
You can choose to stay single if you don't want to get married in the game. You can choose from two different Single Signet Rings and activate Single status.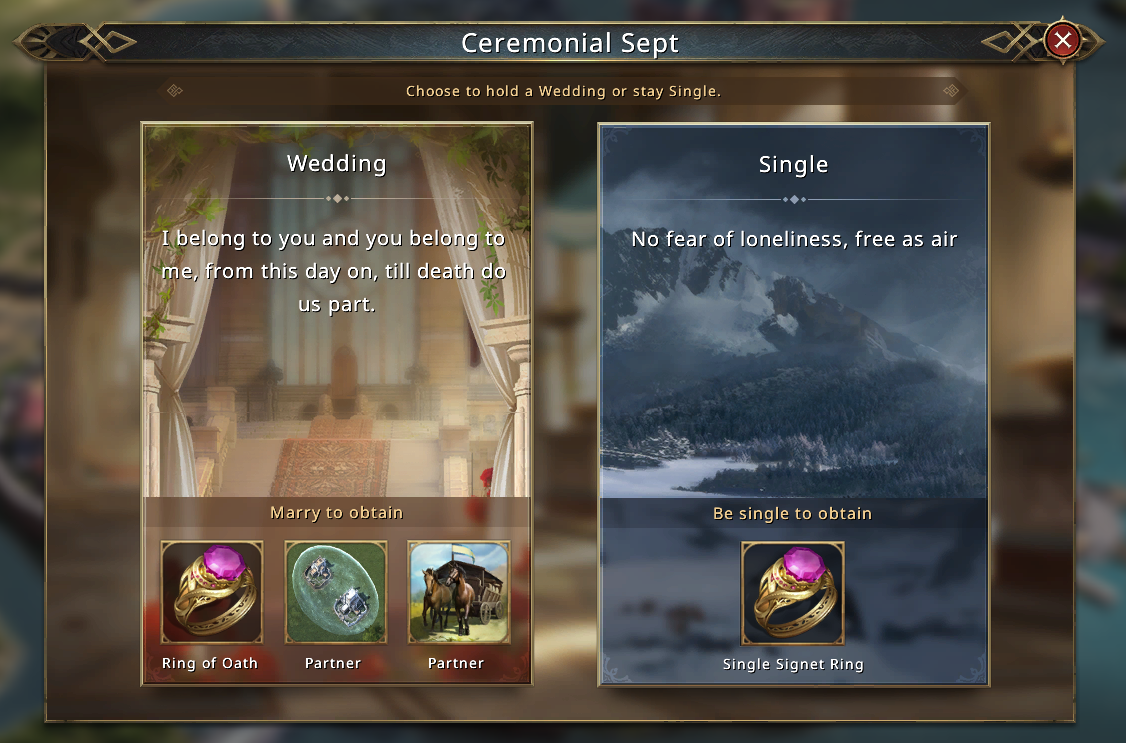 *Notice: Single status can be ended at any time and will not affect the Single Signet Ringequipment.
For other languages of this article please visit our official website and choose your language under the NEWS column. >>>>https://got.gtarcade.com/
繁体中文: https://got.gtarcade.com/zh/news/3440.html
한국어: https://got.gtarcade.com/kr/news/3450.html
Turkish: https://got.gtarcade.com/tr/news/3453.html
DEUTSCH: https://got.gtarcade.com/de/news/3441.html
FRANÇAIS: https://got.gtarcade.com/fr/news/3443.html
ESPAÑOL: https://got.gtarcade.com/es/news/3445.html
PORTUGUÊS: https://got.gtarcade.com/pt/news/3446.html
POLSKI: https://got.gtarcade.com/pl/news/3447.html
ITALIANO: https://got.gtarcade.com/it/news/3448.html
ไทย: https://got.gtarcade.com/th/news/3449.html
にほんご:https://got.gtarcade.com/jp/news/3451.html
TIẾNG VIỆT: https://got.gtarcade.com/vi/news/3452.html
简体中文: https://got.gtarcade.com/cn/news/3439.html
*Please note that the above content might be adjusted due to the change of the development plan. Final updates will be determined in game.
Translate