GTarcade App
More benefits, more surprises
Get
The most popular FIFA World Cup 2022 tournament will now kick off on Sunday November 20, with the host nation Qatar playing Ecuador at 7pm. Welcome to the Gtarcade World Cup centet. Join us and enjoy the football festival!
Gtarcade Football Festival 2022 events:
Daily mini game: Play the soccer game and win GT points every day. It will open on November 20.
Game predict: Who will win the champion? Make your choice and win GT points! It will also open on November 20.
The Match Schedule: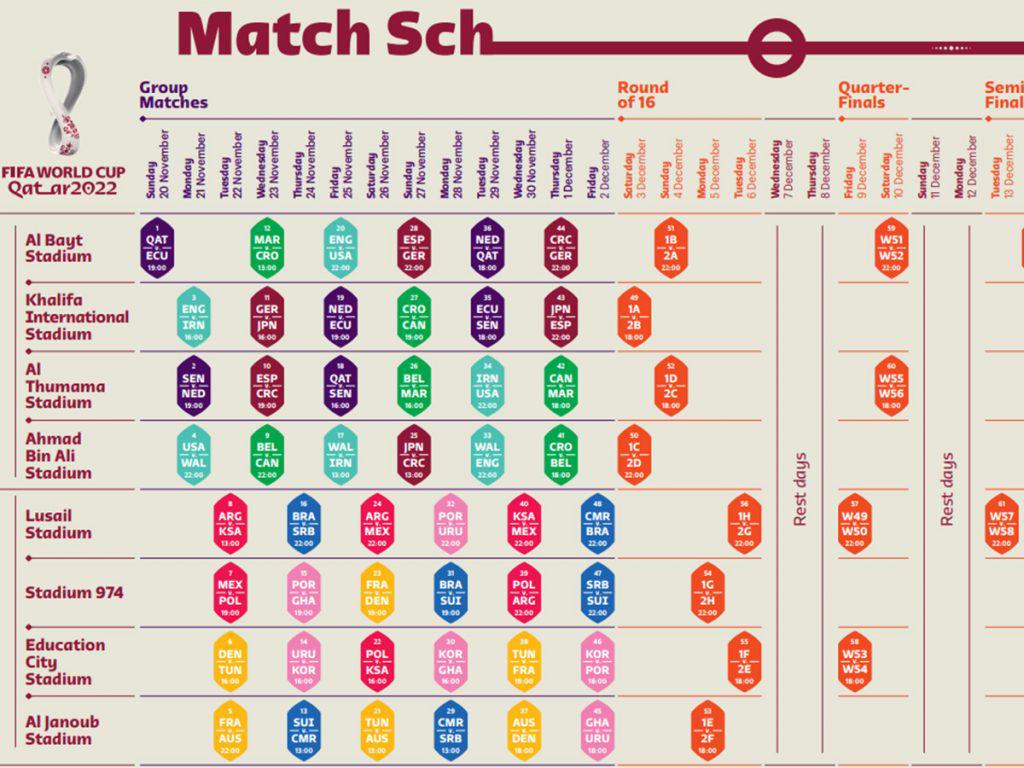 Sunday November 20 – Group stages
Qatar v Ecuador – 7pm, Al Bayt Stadium (Group A)
Monday November 21 – Group stages
England v Iran – 4pm, Khalifa International Stadium (Group B)
Senegal v Netherlands – 7pm, Al Thumama Stadium (Group A)
USA v Wales – 10pm, Ahmad Bin Ali Stadium (Group B)
Tuesday November 22
Argentina v Saudi Arabia – 1pm, Lusail Stadium (Group C)
Denmark v Tunisia – 4pm, Education City Stadium (Group D)
Mexico v Poland – 7pm, Stadium 974 (Group C)
France v Australia – 10pm, Al Janoub Stadium (Group D)
Wednesday November 23
Morocco v Croatia – 1pm, Al Bayt Stadium (Group F)
Germany v Japan – 4pm, Khalifa International Stadium (Group E)
Spain v Costa Rica – 7pm, Al Thumama Stadium (Group E)
Belgium v Canada – 10pm, Ahmad Bin Ali Stadium (Group F)
Thursday November 24
Switzerland v Cameroon – 1pm, Al Janoub Stadium (Group G)
Uruguay v South Korea – 4pm, Education City Stadium (Group H)
Portugal v Ghana – 7pm, Stadium 974 (Group H)
Brazil v Serbia – 10pm, Lusail Stadium (Group G)
Friday November 25
Wales v Iran – 1pm, Ahmad Bin Ali Stadium (Group B)
Qatar v Senegal – 4pm, Al Thumama Stadium (Group A)
Netherlands v Ecuador – 7pm, Khalifa International Stadium (Group A)
England v USA – 10pm, Al Bayt Stadium (Group B)
Saturday November 26
Tunisia v Australia – 1pm, Al Janoub Stadium (Group D)
Poland v Saudi Arabia – 4pm, Education City Stadium (Group C)
France v Denmark – 7pm, Stadium 974 (Group D)
Argentina v Mexico – 10pm, Lusail Stadium (Group C)
Sunday November 27
Japan v Costa Rica – 1pm, Ahmad Bin Ali Stadium (Group E)
Belgium v Morocco –4pm, Al Thumama Stadium (Group F)
Croatia v Canada – 7pm, Khalifa International Stadium (Group F)
Spain v Germany – 10pm, Al Bayt Stadium (Group E)
Monday November 28
Cameroon v Serbia – 1pm, Al Janoub Stadium (Group G)
South Korea v Ghana – 4pm, Education City Stadium (Group H)
Brazil v Switzerland – 7pm, Stadium 974 (Group G)
Portugal v Uruguay – 10pm, Lusail Stadium (Group H)
Tuesday November 29
Netherlands v Qatar – 6pm, Al Bayt Stadium (Group A)
Ecuador v Senegal – 6pm, Khalifa International Stadium (Group A)
Iran v USA – 10pm, Al Thumama Stadium (Group B)
Wales v England – 10pm, Ahmad Bin Ali Stadium (Group B)
Wednesday November 30
Tunisia v France – 6pm, Education City Stadium (Group D)
Australia v Denmark – 6pm, Al Janoub Stadium (Group D)
Saudi Arabia v Mexico – 10pm, Lusail Stadium (Group C)
Poland v Argentina – 10pm, Stadium 974 (Group C)
Thursday December 1
Canada v Morocco – 6pm, Al Thumama Stadium (Group F)
Croatia v Belgium – 6pm, Ahmad Bin Ali Stadium (Group F)
Costa Rica v Germany – 10pm, Al Bayt Stadium (Group E)
Japan v Spain – 10pm, Khalifa International Stadium (Group E)
Friday December 2
South Korea v Portugal – 6pm, Education City Stadium (Group H)
Ghana v Uruguay – 6pm, Al Janoub Stadium (Group H)
Cameroon v Brazil – 10pm, Lusail Stadium (Group G)
Serbia v Switzerland – 10pm, Stadium 974 (Group G)
Saturday December 3 – Round of 16
1A v 2B – 6pm, Khalifa International Stadium (Match 49)
1C v 2D – 10pm, Ahmad Bin Ali Stadium (Match 50)
Sunday December 4
1D v 2C – 6pm, Al Thumama Stadium (Match 52)
1B v 2A – 10pm, Al Bayt Stadium (Match 51)
Monday December 5
1E v 2F – 6pm, Al Janoub Stadium (Match 53)
1G v 2H – 10pm, Stadium 974 (Match 54)
Tuesday December 6
1F v 2E – 6pm, Education City Stadium (Match 55)
1H v 2G – 10pm, Lusail Stadium (Match 56)
Friday December 9 – Quarter-finals
Winner match 53 v winner match 54 – 6pm, Education City Stadium (Match 58)
Winner match 49 v winner match 50 – 10pm, Lusail Stadium (Match 57)
Saturday December 10
Winner match 55 v winner match 56 – 6pm, Al Thumama Stadium (Match 60)
Winner match 51 v winner match 52 – 10pm, Al Bayt Stadium (Match 59)
Tuesday December 13 – Semi-finals
Winner match 57 v winner match 58 – 10pm, Lusail Stadium
Wednesday December 14
Winner match 59 v winner match 60 – 10pm, Al Bayt Stadium
Saturday December 17
Third place match – 6pm, Khalifa International Stadium
Sunday December 18
Final match – 6pm, Lusail Stadium
The Group Information: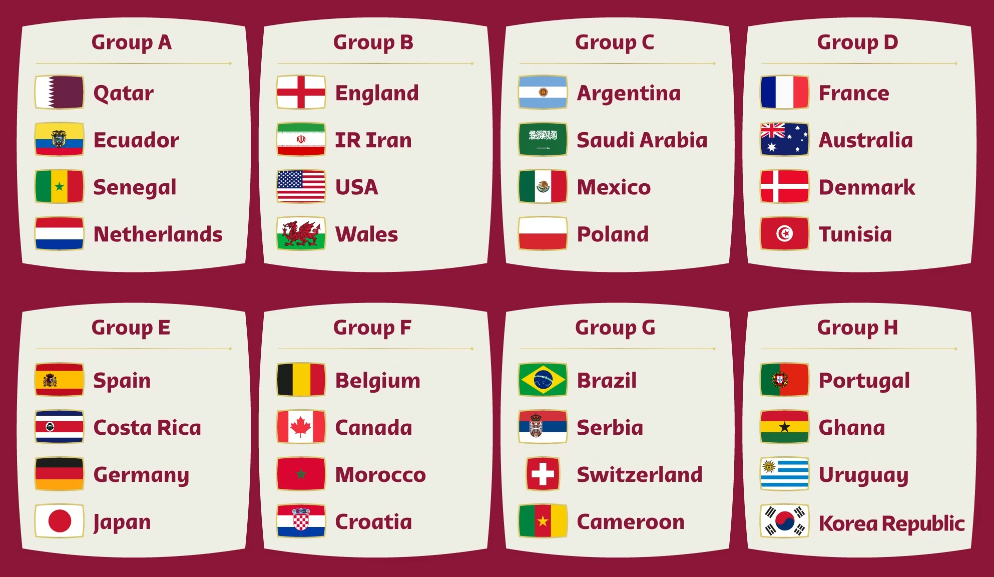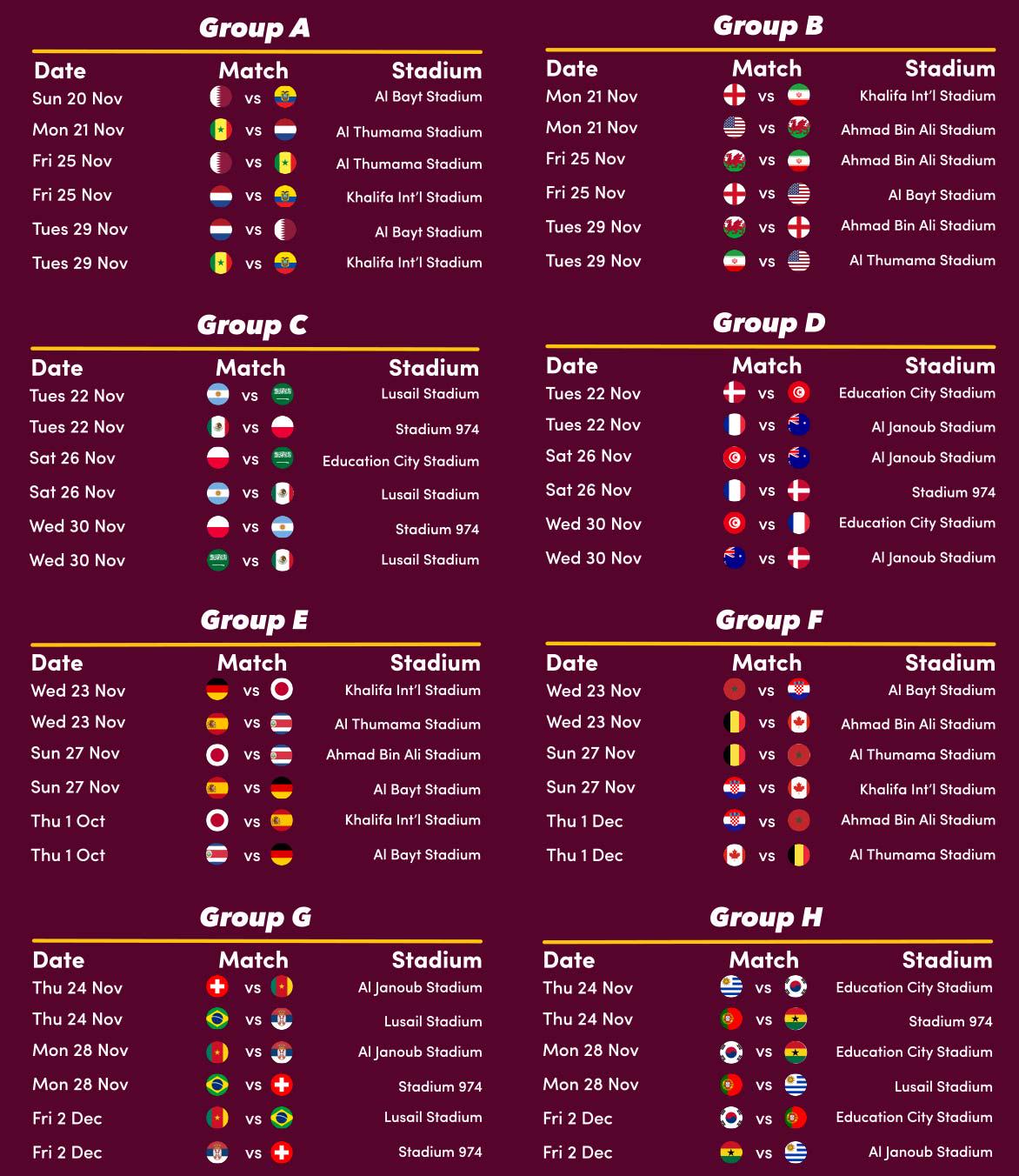 Translate