GTarcade App
More benefits, more surprises
Get
【Rewards Sent】
Thank you all for your love and wonderful costumes and great stories!ヾ(≧∇≦*)ゝ
It's so happy to see you were having a great Halloween!😘
Rewards have been sent via in-game mail to the winners listed below. Please don't forget to check them out!
For those who are not on the list, please stay tuned for more fantastic events. You can be the lucky one next time!
P.S: As the rules, we selected 10 players in the green area who posted cool costumes and we really appreciate your creative ideas, they will get the bonus 1,000 Diamonds! We can't find the players in the yellow area, please make sure leave us your correct ID next time!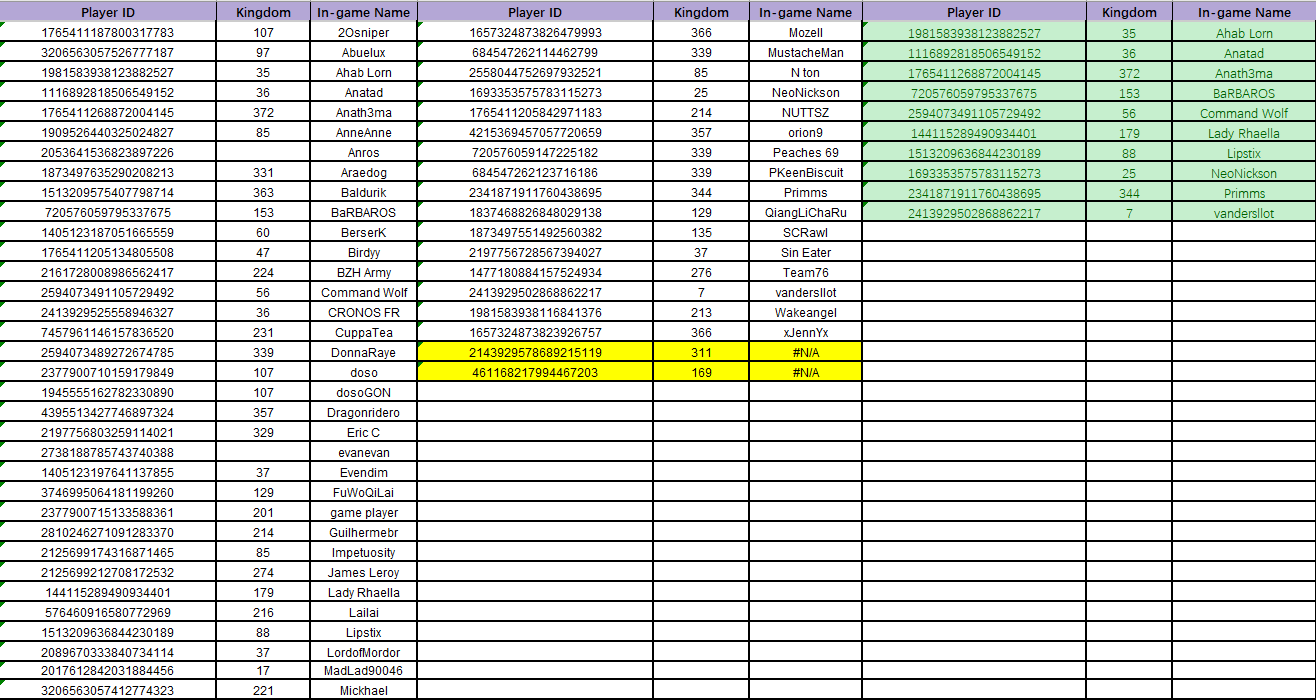 GoT Winter is Coming Team
——————————————————————————————
Hey! My Dear Lords and Ladies! (Trick or Treat!)(☆ω☆)😜
The spooky and fun Halloween is fast approaching! Do you celebrate Halloween in your hometown? And how did you and will you celebrate it?
Despite the COVID-19 and the social distancing rules, you can share your own Halloween memories and costume ideas with all the GoTWiC players!
Post your Halloween costumes or your Halloween stories to enter for a chance to win awesome rewards! Sharing Halloween costumes that are related with Game of Thrones will have a chance to receive Bonus Rewards! We'd love to read your funny, sweet or even thrilling Halloween stories.
Event Duration: 00:00, 27/10/2022 – 23:59, 03/11/2022 UTC
Event Rules:
1. Post your Halloween pictures and stories in a NEW REPLY. Be sure to post your pictures/photos if you are sharing your costumes/makeups.
2. Your pictures and stories should be ORIGINAL.
3. Your reply should include your ID and kingdom number (e.g. ID:1234567890123456789, K20). [You can check out your ID in More>Customer Support.)
4. The winner list will be published and rewards will be sent to you in-game mail within 3-5 working days once the event ends.
Event Rewards:
1. Participation Rewards:
ALL players who share their ORIGINAL Halloween costumes/makeups or stories will receive:
Speed Up 3 Hours x5, Honor Banners x10, Truce 24 Hours x1, [Rare] Badge Chest x1, Diamond x2,000
2. Bonus Rewards:
We'll select 10 players who share Halloween costumes to receive 1,000 Diamonds.
Translate